Golf | 02 Mar 2018 | By Lali Stander
Nobuhle Dlamini shakes the bridesmaid tag at Wild Coast Sun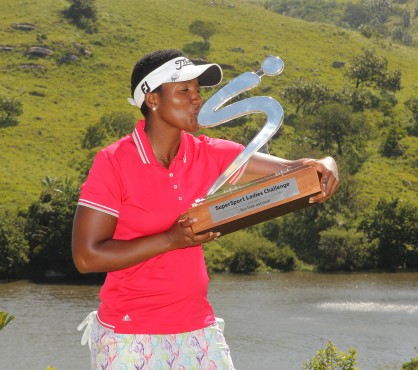 Swaziland's Nobuhle Dlamini claimed her maiden Sunshine Ladies Tour victory in wire-to-wire style when she captured the R400 000 SuperSport Ladies Challenge, presented by Sun International, by one stroke at the Wild Coast Sun Country Club. | Photo by Petrie Oeschger/Sunshine Ladies Tour
Nobuhle Dlamini finally broke her duck on the Sunshine Ladies Tour with a wire-to-wire victory in the SuperSport Ladies Challenge at the Wild Coast Sun Country Club.
The 27-year-old Swazi golfer closed with a final round two-over 72 to capture the R400 000 event, presented by Sun International, by one shot from Lora Assad on Friday.
Dlamini was challenged by a number of players, including Assad, who posted four-under with her final round 69. Port Shepstone professional Melissa Eaton was also in contention most of the way before signing off with a three-over 73 and third place on three-under.
The significance of her triumph in the extremely windy conditions at the par 70 layout was not lost on Dlamini.
"Personally this has built me a lot. I've learnt about being confident, trusting what you're doing," said Dlamini. "I won a lot as an amateur, but it had been too long since my last win. So I needed to win to know I could still do it. It's the beginning of a good journey for me. I hope it will open many doors in terms of sponsorships and getting into other bigger tournaments."
Dlamini had knocked on the door plenty over the last four years in the pro ranks, but particularly this season. A fourth place finish at the Joburg Ladies Open in January and joint second at the SA Women's Masters last week suggested the watershed moment was in her near future.
On a windswept final day at the coastal oasis her hopes turned to reality.
"I played well the first two days, but I struggled a bit today because I was a bit nervous," she said. "I held it together and I'm absolutely ecstatic. It really means a lot to me and to everyone who has supported me. It's been a long journey with lots of hard work. Trying to win my confidence grew, so I'm really happy that I hung in there to win."
Dlamini has come under a lot of pressure to shake the bridesmaid tag, especially her performance at Modderfontein Golf Club. To finally go out and get the job done brought a great sense of relief.
"I kept saying I was going to win and I felt that I could win, but I just couldn't finish it off," Dlamini admitted. "This week I wasn't expecting much. I just believed I'm good enough to win. That belief relaxed me. I said to myself I should just forget about the results and trust the process."
The Swazi golfer suspected scoring would be difficult in the testing conditions.
"I didn't know what the players ahead of us were doing, because there wasn't too many scoreboards on the course," she said. "I knew Lora was playing well, and she was under par, but didn't know by how much. So I just said to myself anything close to level par should get the job done today."
Playing into the teeth of the wind at the par four 18th, Dlamini had no idea that Assad had bogeyed the closing hole.
She carved her drive out to the right, chipped back into play but was still unable to reach the putting surface in three. Coming out the greenside bunker, she missed a 10-footer for bogey, but was able to glide in a knee-knocking three-footer to get her hands on the trophy and a paycheque of R56 000.
"I was level on 17 where I saw the leaderboard, and I thought I had a two shot lead," Dlamini said.
"I hit driver at the middle, but the wind carried it into the rough. From there I was forced to chip out and still had a tough third shot. I thought a five was good enough, but I didn't know what Lora had done."
"I actually asked my caddie 'do I have to make this putt or are two putts good enough?' He said he wasn't also not sure. So I then tried to make the bogey putt, but hit it too far past. But I made sure of the return."
Dlamini will take a boat-load of confidence into next week's Investec South African Women's Open at Westlake Golf Club and not only from lifting her first trophy.
The victory catapulted her to second in the Investec Property Fund Order of Merit and she will start the Ladies European Tour co-sanctioned event less than 400 points behind Stacy Bregman, who remained at the top of the summit and moved to 1 710 points with a joint 24th place finish.