Golf | 11 Mar 2017 | By Lali Stander
Garcia, Buhai in pursuit at Investec Final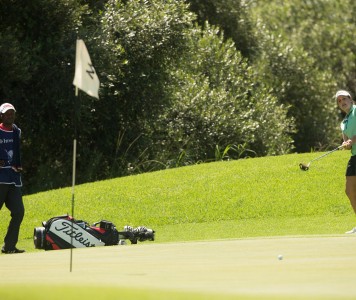 Nicole Garcia | Photo by Sunshine Ladies Tour
Lee-Anne Pace will be hunting her 10th Sunshine Ladies Tour title in Sunday's final round of the Chase to the Investec Cup for Ladies Final, but Nicole Garcia and Ashleigh Buhai will be in hot pursuit in the season's grand finale at Millvale Private Retreat.
The Investec Property player began Saturday's second round with a one shot lead over Garcia and Buhai and she protected her overnight lead with a one under 71.
Pace leads at five under 139, but Garcia from Ebotse Links kept her on a short leash when she also navigated the 5 735 metre layout in one under par.
Buhai, though, left the course rueing a missed opportunity.
A three-putt for par at the par-five sixth proved costly for the six-time Sunshine Ladies Tour winner, who signed for a 72 to keep Pace in sight at three under 141.
Garcia and Buhai both need a top three finish to edge out current Investec Cup Points leader Kiran Matharu for the coveted season-long Chase to the Investec Cup for Ladies title. The Englishwoman leads the rankings with 2 019 points, Buhai is second with 1 803 and Garcia has close to 1 690 points. Although Matharu lags eight shots off the pace, she is still very much in the running.
The Leeds golfer showed her mettle when she negated a bogey, double bogey start with quartet of birdies turn one under. She signed for a 71 to join debutant Lejan Lewthwaite in seventh at three over, but only lost one spot in the overall projected rankings.
"Kiran has the ability to push it into fifth gear in the final round," Garcia said. "If she hits a hot run on Sunday, we will be in trouble. It's all to play for all of us."
Garcia and Pace both bogeyed the opening hole and birdied the eighth, while Buhai offset bogeys at the second and fifth with a birdie at the seventh.
The trio turned with Pace still in the driver's seat at four under, but Garcia took the lead when Pace dropped the 13th and she birdied the short hole. "Lee-Anne flagged her approach at 16 and tapped in for birdie and she boxed a 30-footer for birdie at 17 to re-take the lead," Garcia said. "I felt a little tired, lost focus and came close to a bogey-bogey finish, but I managed to save par."
After her approach shot at 17, Garcia found her ball lodged in a tiny gap between a rock and the semi-rough. She worked it out with a seven-iron and holed a three-footer to save par. At 18, her drive found the fairway bunker at 18, leaving her with an awkward stance, but she managed to move it down the fairway.
"I had 70 metres left to the pin and I hit the approach to three feet and made the par save," she said. "I am pleased that I was able to finish with pars, but I'll need to keep my head in the game tomorrow."
Pace came into the final event knowing a fourth successive Chase to the Investec Cup for Ladies title was out of reach, but she is still determined to leave Millvale with a trophy.
"I had to make some tough decisions and I missed some events, but I will fight till the last putt drops to win the Final," said the Paarl golfer. "Nicole and Ashleigh are playing really solid golf and they are not making many mistakes. It's going to be a fun battle."
Meanwhile Bonita Bredenhann and Nobuhle Dlamini also finished in red numbers.
Bredenhann fired a three-under-par 69 for the low round of the day that featured a lone bogey at the second and a quartet of birdies that earned the Namibian fourth place on her own at two under.
She leads by one from Dlamini, who got it to four under with a trio of birdies on the front nine and three more gains on the back stretch. A wayward drive at 16 led to a costly double, though, and the big-hitting Swazi golfer parred her way to a 70 to finish in fifth at one under.
Second Round Scores
139 - Lee-Anne Pace 68 71
140 - Nicole Garcia 69 71
141 - Ashleigh Buhai 69 72
142 - Bonita Bredenhann (NAM) 73 69
143 - Nobuhle Dlamini (SWZ) 73 70
145 - Kim Williams 73 72
147 - Kiran Matharu (ENG) 76 71, Lejan Lewthwaite 73 74
148 - Carrie Park (KOR) 75 73
152 - Tandi von Ruben 79 73