Golf | 22 Jun 2017 | By Michael Vlismas
Namibian golfers pitch in for Sanlam Cancer Challenge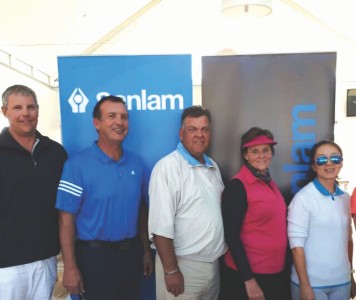 (FLTR) The winners of the Sanlam Cancer Challenge Qualifier at Omeya Golf Club. Men: Abrie van Wyk (A Division), Gerhard de Wet (B Division), Adri Vermeulen (C Division); Women: Adri Pienaar (A Division), Min Deng (B Division) and Jane Liebenberg (C Division).
What started as a WhatsApp group between eight golfers hoping to make a difference quickly grew into one of the Sanlam Cancer Challenge's biggest charity contributions this year.
The "Omeya Musketeers" is a group of eight golfers from Omeya Golf Estate in Windhoek, Namibia, who have raised an incredible R160 000 for this year's Sanlam Cancer Challenge in aid of the Cancer Association of South Africa (CANSA).
It is one of the largest sums raised at an individual golf day on this year's Sanlam Cancer Challenge, along with the R409 810 raised by the golfers at Magersfontein Memorial Golf Estate in the Northern Cape and the R175 000 raised by the members of Fancourt in George.
"We've been involved with the Sanlam Cancer Challenge for many years and to celebrate the 25th anniversary of the partnership between this great competition and CANSA we wanted to do something special," says Riaan Liebenberg, who drove the initiative.
"We had a WhatsApp group and it just grew from there. We decided to host our own golf day just a day before the club's official Sanlam Cancer Challenge golf day. And then we got to work inviting teams and getting donations and prizes. We had 21 teams taking part and are extremely grateful for what we could raise."
Namibian golfers are traditionally some of the strongest supporters of the Sanlam Cancer Challenge and regularly feature at the National Finals of the competition.
The 2017 club competitions finish in June and are followed by the respective Regional Finals from July to August where hundreds of golfers will be attempting to qualify for the National Finals at Sun City from 9-10 October, and played on both the Gary Player Country Club and Lost City Golf Club courses.
For more information go to www.sanlamcancerchallenge.co.za
About the Sanlam Cancer Challenge and CANSA
Sanlam and CANSA have partnered the Sanlam Cancer Challenge since 1993.
CANSA offers a unique integrated service to the public and all people affected by cancer. As a leading roleplayer in cancer research (more than R6 million spent annually), the scientific findings and knowledge gained from the research is used to realign CANSA's health programmes as well as strengthen its watchdog role to the greater benefit of the public. CANSA's wide-reaching health programmes include prevention and education campaigns, CANSA Care Centres that offer stoma and lymphoedema clinics, medical equipment hire, toll-free line and support to children and their families affected by cancer. There is also patient care and support in the form of 11 CANSA Care Homes for out-of-town cancer patients in the main metropolitan areas plus one hospitium (based in Polokwane) as well as two CANSA-TLC Lodges for paediatric oncology parents in Pretoria and Limpopo. Follow CANSA on Twitter: @CANSA (http://www.twitter.com/@CANSA) and join CANSA on Facebook: CANSA: Fighting cancer in South Africa (http://www.facebook.com/groups/25164487668/), visit www.cansa.org.za or call toll-free 0800 22 66 22 email: info@cansa.org.za.
The purpose of the Sanlam Cancer Challenge is to raise funds and awareness annually for the fight against cancer. Visit www.sanlamcancerchallenge.co.za.