Golf | 07 Dec 2017 | By Andrew Hope
Melissa Eaton wins Sun PinkStig finale at Sun City Resort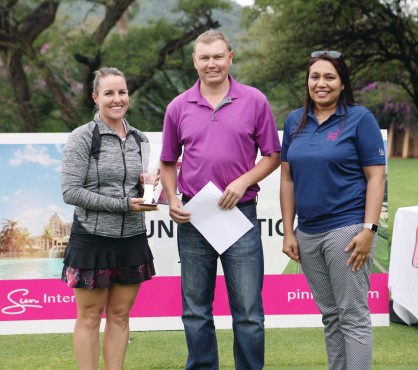 Melissa Eaton held her nerve down the stretch to capture the three-day Sun PinkStig Series Finale crown at Sun City.
Eaton, 32, signed for a two-over-par 74 to claim a four-shot win at the weather-affected tournament, which had been reduced to a 36-holes after the second round was cancelled due to rain.
The South African, who fired an opening three-under 69, entered the final round with a sizable five-stroke cushion over Namibia's Bonita Bredenhann, and managed stay calm, albeit not under too much pressure
With no one behind her mounting a serious charge, the Louisiana State University graduate, stamped her authority on the Gary Player Country Club layout with a birdie at the par-5 ninth hole.
Eaton, who finished third in the penultimate Sun PinkStig event at Parkview Golf Club in October, was able to nullify the threat posed by the demanding inward half, and completed her march to the finish with a bogey at the last.
"Winning is the best feeling in the world, especially to do it on the Gary Player Country Club, which is one of the toughest courses. I knew that I needed to stay calm and follow-up my opening 69 with a decent round, so I am happy to get the job done," said Eaton.
While Eaton reigned supreme at the home of Africa's Major, her playing partner's, Bredenhann and Kim Williams finished in a tie for fourth at seven-over-par. Bredenhaan carded a closing 77 and Williams signed for a 76.
Monique Smit, who was paired in the second last group on the final day, did her utmost to reel in the runaway victor. Smit, who has played on the European Ladies Tour, went round in one-under-par 71 to end her week in sole possession of second place at three-over-par. 
"It was an awesome final round and I couldn't be more chuffed with closing with a 71," said Smit.
The Fancourt professional also lauded the efforts made by organisers, "It has been such a quiet year for ladies competitive golf as tournament play concluded in March already, so the Sun PinkStig Series platform has been amazing to us. It's allowed us to hone our skills again, and to build some confidence ahead of the new year."
Zethu Myeki's star continues to rise. Myeki, 24, who is part of the Ernie Els and Fancourt Foundation, came home with a brilliant 71to complete the podium and finish as the leading amateur.
"I played so well and made a couple of birdies. I always knew I could come back after a disappointing first round (78). Us amateurs are not scared to mix it with the professionals," said Myeki
Earlier this year, Myeki wrote her name into the history books with a course record 64 at Kloof Country Club during the final round of the KwaZulu-Natal Golf Championships.
Talented-teenager Ivanna Samu carded consecutive rounds of 76 to end her bid in the North West Province at eight-over.
Mae Conforth had to settle for seventh-place after starting the final day joint-third, while there was a five-way tie for eighth.
While the Sun PinkStig Series continues to make great strides, it has notably provided women professionals with the ideal platform to remain competitive between the Sunshine Ladies Tour Seasons.
The opening Sunshine Ladies Tour event commences with the Canon Ladies Tshwane Open taking place at Pretoria Country Club from 23 January 2018.