Golf | 04 Dec 2017 | By Andrew Hope
Melissa Eaton sets early pace at Sun PinkStig Finale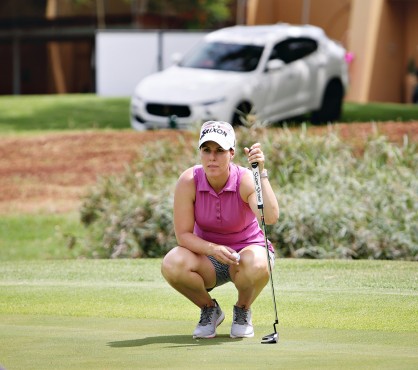 Melissa Eaton
Sun City's crown jewel, the Gary Player Country Club was again in focus as it provided the backdrop for the opening round of the season-ending Sun PinkStig Series Finale.
South Africa's third-ranked course has been a hive of activity in recent weeks, staging both the Race to Dubai's penultimate event, the Nedbank Golf Challenge and the Gary Player Invitational in consecutive weeks, and it was now the turn of Africa's most aspiring women professional's to try escape the wrath of the Black Night's testing layout...

Playing alongside celebrities and corporates in the Pro-am event for the first two-rounds of three-day event, the field was greeted by warm conditions with temperatures reaching mid 30's.
Melissa Eaton shone under the African sun with the only sub 70 of the day. Eaton who finished in third place in the penultimate event at her home course, Parkview Golf Club, in October fired a sensational three-under-par 69.
The amateur ladies though did not let the occasion get to them as they too proved a force to be reckoned with on day one - a great advert for golf and the growth of the ladies game in South Africa.

Namibian Bonita Bredenhann signed for a brilliant two-over par 74 to be in a share of second place.

Eleanora Gelletti burst out the blocks and found herself in a four-way tie for the lead early on as the field headed towards the turn. At the time she was in pole position with three other amateurs. However, she struggled on her inward half and finished with a 79.
Mae Conforth and Kim Williams are in a tie for third after opening 75's with Monique Smit and Ivanna Samu a further shot back on four-over par.

The highlight of the day came from the Pro-am event where Johan Germishuys aced (hole in one) the par-3 12th hole with a 9-iron from 145 metres.

Lost City Golf Course plays host to the second round with the professionals returning to the Gary Player for Wednesday's third and final round.