Golf | 25 Nov 2017 | By Michael Vlismas
Development squad pros chasing Investec cash bonus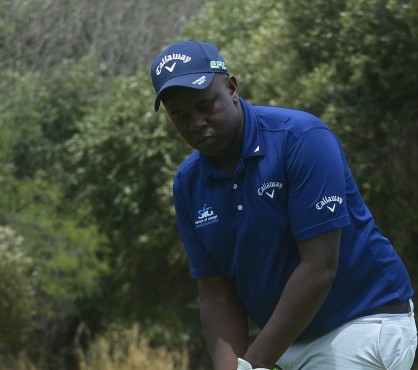 Makhetha Mazibuko
Makhetha Mazibuko and Lindani Ndwandwe were looking to learn from the best as they took part in the official pro-am of the Gary Player Invitational, presented by Coca-Cola, at Sun City's Lost City Golf Course on Friday.
The two golfers were invited to take part as members of the Gary Player Class of 2017-18, which is the Sunshine Tour's main development squad for historically disadvantaged professional golfers. It benefits from the longstanding and continued support of the South African Golf Development Board (SAGDB) that was founded in 1999 by Johann Rupert and has become the official body for golf development in South Africa, as well as the Ernie Els & Fancourt Foundation (EEFF) in the collective effort to use golf to improve the lives of disadvantaged South Africans.
Both Mazibuko and Ndwandwe were looking to hone their games under the watchful eye of Player. And their desire to find an extra dimension to their games comes at a time when the main summer tournaments are now set to tee off, and with a sizeable bonus on offer from Investec to the Gary Player Class golfers.
By the conclusion of the Sunshine Tour's 2017-18 season in March, the top Gary Player Class golfer on their own Investec Order of Merit will receive R250 000 and the runner-up R150 000.
"The Investec bonus can make a big difference to our careers," said Mazibuko.
"The Gary Player Class as a whole is making such a difference to our games, and this give us even more incentive to improve. After this Gary Player Invitational Pro-Am I have a break and then hopefully I can play well at the upcoming Joburg Open and set myself up to grab that opportunity at the end of the season."
Next week's AfrAsia Bank Mauritius Open will also be an opportunity for more Gary Player Class of 2017-18 golfers in Omar Sandys, Toto Thimba Jnr, Gerrit Foster and Keenan Davidse, who have all qualified to play in this tri-sanctioned tournament between the Sunshine Tour, European Tour and Asian Tour.