Golf | 29 Nov 2017 | By Michael Vlismas
Louis Oosthuizen has designs on a Mauritian masterpiece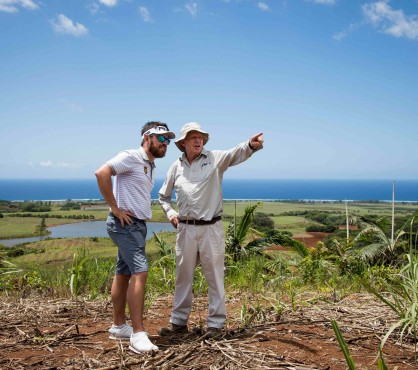 Louis Ooosthuizen and Peter Matkovich scoping the site for the new golf course at The Heritage Golf Club
Amongst the many goals Louis Oosthuizen has set himself for 2018 will be a new and different one, namely to co-design a golf course that is as celebrated as the one he is playing on in this week's AfrAsia Bank Mauritius Open.
The Heritage Golf Club, the host of this week's €1 million tournament tri-sanctioned by the Sunshine, European and Asian Tours, has for the fourth consecutive year been voted the Best Golf Course in the Indian Ocean at the World Golf Awards.
It was designed by renowned African golf course architect Peter Matkovich. The increasing demand for golf on the island has seen Heritage Resorts commission a second 18-hole championship course on the resort, with Matkovich and Oosthuizen partnering in this endeavour.
It is Oosthuizen's first golf course design project, and he is already making an impact.
"Both Peter and Louis are really excited about this golf course and its position within the Savanne mountain range," said Jonathan Menteath, the General Manager of Heritage Golf Club.
"Almost every tee box will have a spectacular ocean view, and the overall theme of the golf course is to create a forest feel with the ebony trees that abound here.
"Peter's design has been completed on paper and Louis was taken to the site for the first time earlier this week. Even though he's new to golf course design, he is a world champion golfer so he has a great eye for what makes a good golf course. He has already picked up a few things, and which we have tweaked on the design."
The timing of the new golf course is perfect to capitalise on the current growth of golf in Mauritius and an increasing awareness globally of its rising standing in this arena.
"In the summer Heritage Golf Club is fully booked so we definitely need a second golf course," said Menteath.
"Golf in Mauritius is currently growing at between a 3-5% increase in rounds per year. The island is being recognised more as a preferred golf tourism destination, with top resorts that are backed up by great championship golf courses. The AfrAsia Bank Mauritius Open has also helped to put the island on the map in terms of being a top golf tourism destination, and this will only grow."
Oosthuizen is certainly looking forward to adding to this growth.
"I'm thrilled to be working with Peter on this project. Who wouldn't dream of designing a course on the paradise island of Mauritius, and at one of the most beautiful resorts on the island, Heritage Resorts. I'm looking forward to helping create a golf course which perfectly balances the challenge of a championship layout with the element of fun that needs to be incorporated into any course."