Golf | 01 Dec 2017 | By Michael Vlismas
Louis Oosthuizen chasing a win in Mauritius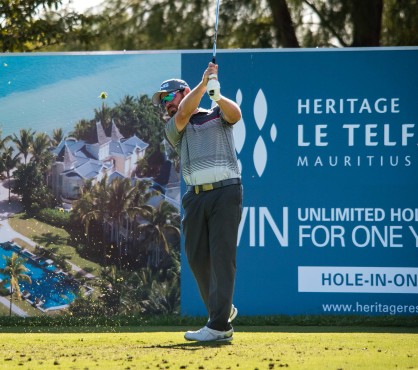 Louis Oosthuizen heads into the weekend of the AfrAsia Bank Mauritius Open only three shots off the lead and still looking for the really low round he believes has eluded him up until now on the Heritage Golf Club course.
The 2010 Open champion signed for a 68 on Friday, lifting him to seven under par and chasing the 10-under-par lead of India's Arjun Atwal. The 44-year-old Atwal followed up his course record 62 in the first round with a 70.
Atwal leads by a single stroke over South Africans Dylan Frittelli and Louis de Jager and England's Laurie Canter.
But it's Oosthuizen they'll all be keeping an eye on as the world number 22 has managed to keep himself well in contention despite not yet feeling settled on the greens.
"I'm happy to be three behind with the way I've been playing. There's a lot of golf left on the weekend. There are definitely low numbers out there if you can roll the ball well. Today I just seemed to not be able to see the lines as well. I had a lot of opportunities and didn't make any," he said.
But he remains as relaxed as ever about his chances of a win on debut in this tri-sanctioned tournament between the Sunshine, European and Asian Tours.
"I'm having a great time with the family. Everyone is here. We'll go to the pool now, relax a bit, and tomorrow off we go again," he said after his round.
Atwal also didn't get as much out of his putting as he wanted on day two.
"I thought it was a lot more tricky today. The wind wasn't blowing at a consistent pace and it would gust. The putter was definitely not as hot as the first day. I was hitting the ball just as good but it's tough to follow up a 62 with another low round."
As tough as he found it, Atwal showed the experience of a golfer who beat Major winner David Toms to his only PGA Tour victory in the 2010 Wyndham Championship when he said, "I'm always calm. People who know me know that I don't get fired up or lose my temper. I'm pretty much the same all the time. I'll take this one-under, and I'm really looking forward to the weekend."
Frittelli is just as eager to see the weekend arrive. The young star is enjoying an incredible run of form in which he claimed a maiden victory on the European Tour this year and has finished second, fourth and 16th in three of his last four tournaments. On Friday he surged into contention with a 66 that ended with him making two birdies and an eagle two in his final four holes.
The eagle came on the par-four ninth where Frittelli reached the green with his three-wood tee shot and left himself a 30cm putt for eagle.
"I just decided to give it a go and I hit a pearler," he said. "I'm very happy with the score. I'm feeling confident. I mean, if I was within five shots of the leader I would still feel confident. There's still a lot of golf left so I'm happy to be out there and competing. You know, this is week five in a row for me. I'm definitely on form now. I've played a lot of tournament golf in the last five weeks and it's showing in my performance."
Further down the leaderboard, Thailand's Suttijet Kooratanapisan equaled Atwal's course record with his own 62 on Friday, which saw him reach the halfway stage of the tournament at four under par.