Golf | 28 Feb 2017 | By Lali Stander
Lost City serves up a birdie banquet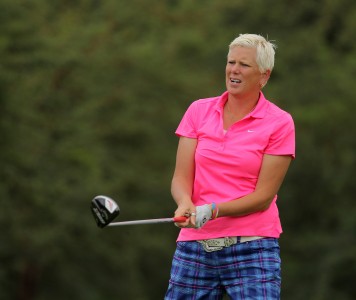 | Photo by Sunshine Ladies Tour
The Sun International Ladies Challenge saw a fantastically high standard of golf as no less than 15 players dipped into red figures during the opening round of the R200 000 championship at Sun City.
An abundance of more than 200mm of rain over the last week rendered the Gary Player-designed layout pretty defenceless and offered the Sunshine Ladies Tour competitors the rare opportunity to play some target golf.
Cecilie Lundgreen from Norway and Bonita Bredenhann from Namibia proved the most inspired and put on a superb ball-striking display to lead a distinctly international leaderboard at six under 66.
Lundgreen and Bredenhann and set the clubhouse target at six under par.
South African pair Ashleigh Buhai and Lejan Lewthwaite also peppered the flagsticks to finish a further stroke back, while former champion Tandi van Ruben and current Chase to the Investec Cup for Ladies leader Kiran Matharu from England parked themselves at four under.
Englishwomen Lauren Taylor fired a flawless 69 to finish a further shot back in seventh and Sweden's Alexandra Lennartsson has 2017 champions Carrie Park from South Korea and South Africa's Nicole Garcia for company at two under.
The five players who navigated the championship course in one-under-par 71 are Swedish duo Lynn Carlsson and Sofia Ljungqvist, SuperSport Ladies Challenge winner Kim Williams and compatriots Melissa Eaton and Mandy Adamson.
With four more foreign competitors tied at even-par, the eighth event in this year's Chase to the Investec Cup for Ladies is shaping up to be quite a tournament.
"The course played quite long, but the balls stayed where they landed and they put the pins in all the right spots for me," said the lanky Lundgreen.
"I struck my irons beautifully and the putter was really hot. I hardly had a putt further than 10 feet all day and my only bogey came at the short eighth, where I didn't up-and-down for par. I've always played well at Sun City, but this has to be one of my best rounds out here."
Big-hitting Bredenhann battled a bout of nausea and did not envision that she would hold a share of the lead at the end of the day.
"I felt really weak and shaky and if you had given me a 66 at the start of the round, I would have taken it and gone to bed," she said. "I think that's why I favoured the hybrid and it worked really hard for me. I missed three fairways, but only by inches.
"I kept it in play and gave myself some great opportunities with the long and shorter irons. I realised I was in contention when I got the 18th tee, and I actually got a little scared. I really didn't want to mess up, so I went with the hybrid off the tee and hit hybrid into the green. I holed a 20-footer at the last and it was great to sign off with a birdie finish. Hopefully I can keep this run going for the next two days."
Cape Town Ladies Open champion Buhai had a bogey at the fifth between birdie pairs at one and two, and six and seven. She made amends for the drop with at 11, 14 and 16, but squandered her share of the lead with a bogey finish.
Lewthwaite, meanwhile, produced a flawless 67.
The Serengeti golfer is hitting great form at the most opportune time. With only the Ladies Joburg Open next week left in this year's Chase to the Investec Cup for Ladies, a strong performance in the R200 000 championship this week could make all the difference.
She currently ranks 12th in the points standing and a top five finish would give her the necessary boost to break into the top 10. If she can keep the form going, Lewthwaite will have a very good chance of qualifying for the season-finale at Millvale Private Retreat in two weeks.
First Round Scores
66 - Cecilie Lundgreen (NOR), Bonita Bredenhann (NAM)
67 - Lejan Lewthwaite, Ashleigh Buhai
68 - Tandi von Ruben, Kiran Matharu (ENG)
69 - Lauren Taylor (ENG)
70 - Alexandra Lennartsson (SWE), Carrie Park (KOR), Nicole Garcia
71 - Lynn Carlsson (SWE), Sofia Ljungqvist (SWE), Mandy Adamson, Melissa Eaton, Kim Williams
72 - Flavia Namakula (UGA), Sophie Giquel-Bettan (FRA), Hannah Arnold (USA), Rebecca Hudson (ENG)
73 - Kylie Henry (SCO), Larissa Du Preez AMA
74 - Monja Richards, Johanna Bjork (SWE), Stacy Bregman, Ivanna Samu
75 - Clara Pietri (SUI), Valentine Derrey (FRA)
76 - Emma Westin (SWE), Morgana Robbertze, Anna Sventrup (SWE), Monique Smit, Nobuhle Dlamini (SWZ)
77 - Chiara Contomathios AMA
78 - Michelle Leigh, Kiera Floyd AMA, Catherine Lau AMA, Alana van Greuning, Bertine Strauss
79 - Laurette Maritz, Crizelda van Niekerk, Lenanda van der Watt AMA, Tijana Kraljevic
80 - Lynette Fourie AMA, Shawnelle de Lange AMA, Hanna Roos (SWE), Crystal Cooper AMA
82 - Laura Sedda (ITA), Yolanda Duma, Michelle Swanepoel, Lindi Coetzee AMA
83 - Siviwe Duma, Ethel Ruthenberg AMA
86 - Maria Roos (SWE), Marguerite Pienaar, Laura Welch (CAN), Kelsey Nicholas AMA
87 - Mae Cornforth, Nina Grey AMA
Missed the cut:-
88 - Muriel McIntyre (CAN), Leslie Grandet (MAD), Frankie Bosman AMA
94 - Jacqueline Schram AMA (USA)
RTD - Kirsty Fisher (SCO)