Golf | 28 Feb 2017 | By Michael Vlismas
Local knowledge key for Fichardt, Coetzee in Tshwane Open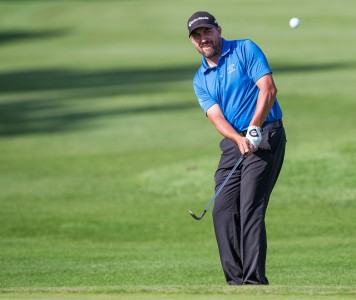 | Photo by Perfect Exposure
The local challenge will be as strong as ever in this week's Tshwane Open, with Darren Fichardt and George Coetzee leading this charge when the R16.5 million tournament tees off at Pretoria Country Club on Thursday.
Fichardt first played this golf course as a teenager and has won several amateur titles here, while Coetzee virtually grew up on this layout and won his first junior tournament here.
Fichardt is still full of confidence following his Joburg Open victory last weekend.
"I've been enjoying the last couple of days and soaking in the win," Fichardt said on Tuesday.
"I played the pro-am and it's like I'm walking on a cloud. It just feels like I'm carrying over the form from last week.
"You know, it's a case of you've already won so now you can just go out and enjoy it, and that's the key thing in this game. You need to just enjoy it and let your talent and experience take over then the good results will come.
"So I'm very excited for this week to just play free golf and give it my all. I'm confident, no negative thoughts, and I'm out here to try and win again."
Coetzee is equally pleased to be back on home fairways and at his home club as he seeks to add to his 2015 Tshwane Open victory.
"I've been a member here all my life. Winning at your home club is probably the most difficult one to win so I was very happy to do that in 2015. Hopefully the local knowledge will kick in again this year," he said.
His form is also on the rise. Coetzee was right in contention in the final round of last week's Joburg Open thanks to a closing 65 before finishing tied seventh, and he hopes to carry that into this week.
"I'm feeling very good about my game. Everything feels like it's just where I want it to be. I'm just working hard on the basic things I know my game needs. I've spent many years trying to find solutions and I feel like now I've figured it out and just need to stick to that."
The condition of the golf course is already receiving praise from the field, but the rough will certainly present a challenge this week.
"The golf course is in unbelievable condition. The rough is ridiculously thick though, so it's going to be key to hit the fairways this week," said Fichardt.
Coetzee agrees. "The course is looking great. The rough is quite up so it'll play as hard as it ever has."