Golf | 01 Mar 2017 | By Lali Stander
Lewthwaite gives chase at Sun City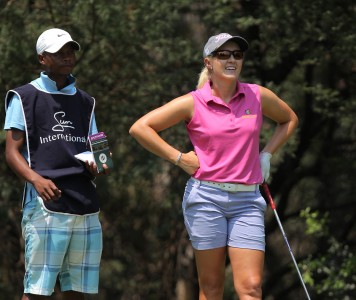 | Photo by Sunshine Ladies Tour
Bonita Bredenhann from Namibia continued to shine in the Sun International Ladies Challenge, but Serengeti golfer Lejan Lewthwaite stayed in her shadow as action wrapped up Tuesday's second round at the Sun City Resort.
Bredenhann and Cecilie Lundgreen from Norway led the first round at six under, but the big-hitting Namibian was the only one left in pole position at the Lost City Golf Course after she carded a two-under-par 70.
She leads on eight under 136, one shot clear of Lewthwaite, who matched her 70.
The 24-year-old from Hentiesbaai is bidding for a maiden win on the Sunshine Ladies Tour, but she will have to fend off Lewthwaite, who is also hunting a breakthrough win. To add to the pressure, both players are fighting for survival in the Chase to the Investec Cup for Ladies.
Bredenhann and Lewthwaite are respectively ranked 15th and 12th in the Points Standings. Victory at Sun City ahead of the final counting event – the Ladies Joburg Open starting on Sunday – would give either player a leg-up to make the top 10 list that qualify for the season-finale at Millvale.
"I knew coming into this week that I had nothing to lose and that had a huge influence on how I approached the course," said Bredenhann. "Instead of going with the driver to take advantage of my distance off the tee, I went with the hybrid and gave myself longer irons into the green. I'm really accurate with the hybrid and I didn't miss many fairways in the last two days.
"Even at the par fives, which I would usually go for in two, I elected to lay up and rather make sure of the birdies. I'm really calm this week and I'm taking that nervousness that normally trips me up and turning it into positive energy.
"The greens are still very receptive. I'm confident that I can make the putt if I can hit it anywhere inside 12 feet, so striking my short irons and wedges really well and having a hot putter in the bag has helped, too."
While Bredenhann mixed five birdies with three bogeys for her 70, Lewthwaite reversed a double bogey at the second with a trio of birdies on the front nine. She dropped another shot at 14, but bookended her back nine with two further gains.
"It's nice to come into form right now, so close to the end of the season, but I think it's more a mental thing that my game," said the Benoni native. "I've been playing well for weeks, but I've put far too much pressure on myself. I think my expectations were too high, and like Bonita, I teed it off in the first round thinking I've got nothing to lose.
"The mental switch has been good for my game and I'm really playing solid golf. We had a great time on the course today with a lot of banter and we were egging each other on all day. Hopefully the putter heats up even more in the final round and we can have a good old tussle for the title."
Buhai, who started the second round in a tie for third with Lewthwaite, carded a 71 to finish at six under, while Tandi von Ruben – the winner in 2014 – is a further stroke back.
Von Ruben held a share of the lead at nine under with Bredenhann after she boxed three birdie putts in a row from the 11th, but a costly triple bogey at the par four 16th and a bogey finish saw the Randpark golfer sign for a 71 that dropped her to five under 135.
Lundgreen moved to fifth at four under after a 74 and Chase to the Investec Cup leader Kiran Matharu finished at 141 after a 73. Two-time Ladies European Tour champion Kylie Henry from Scotland, South Africa's Melissa Eaton and Lauren Taylor from England are two under.
Second Round Scores
136 - Bonita Bredenhann (NAM) 66 70
137 - Lejan Lewthwaite 67 70
138 - Ashleigh Buhai 67 71
139 - Tandi von Ruben 68 71
140 - Cecilie Lundgreen (NOR) 66 74
141 - Kiran Matharu (ENG) 68 73
142 - Kylie Henry (SCO) 73 69, Melissa Eaton 71 71, Lauren Taylor (ENG) 69 73
143 - Kim Williams 71 72, Carrie Park (KOR) 70 73
144 - Stacy Bregman 74 70, Rebecca Hudson (ENG) 72 72, Nicole Garcia 70 74
146 - Valentine Derrey (FRA) 75 71
147 - Ivanna Samu 74 73, Sofia Ljungqvist (SWE) 71 76, Lynn Carlsson (SWE) 71 76, Alexandra Lennartsson (SWE) 70 77
148 - Chiara Contomathios AMA AMA 77 71, Sophie Giquel-Bettan (FRA) 72 76, Flavia Namakula (UGA) 72 76, Mandy Adamson 71 77
149 - Bertine Strauss 78 71, Johanna Bjork (SWE) 74 75
150 - Monique Smit 76 74
151 - Anna Sventrup (SWE) 76 75, Morgana Robbertze 76 75, Emma Westin (SWE) 76 75, Clara Pietri (SUI) 75 76, Monja Richards 74 77
152 - Lenanda van der Watt AMA AMA 79 73, Catherine Lau AMA AMA 78 74
153 - Nobuhle Dlamini (SWZ) 76 77
154 - Alana van Greuning 78 76, Hannah Arnold (USA) 72 82
155 - Laurette Maritz 79 76, Michelle Leigh 78 77, Larissa Du Preez AMA AMA 73 82
157 - Kiera Floyd AMA AMA 78 79
158 - Lynette Fourie AMA AMA 80 78, Tijana Kraljevic 79 79
159 - Ethel Ruthenberg AMA AMA 83 76, Laura Sedda (ITA) 82 77
160 - Shawnelle de Lange AMA AMA 80 80
161 - Maria Roos (SWE) 86 75, Hanna Roos (SWE) 80 81
162 - Yolanda Duma 82 80, Crystal Cooper AMA AMA 80 82
163 - Siviwe Duma 83 80, Crizelda van Niekerk 79 84
164 - Lindi Coetzee AMA AMA 82 82
167 - Kelsey Nicholas AMA AMA 86 81
169 - Michelle Swanepoel 82 87
170 - Mae Cornforth 87 83
172 - Nina Grey AMA AMA 87 85
Missed the cut after Round 2:
174 - Marguerite Pienaar 86 88
175 - Laura Welch (CAN) 86 89
Missed the cut after Round 1:
88 - Muriel McIntyre (CAN) 88, Leslie Grandet (MAD) 88, Frankie Bosman AMA AMA 88
94 - Jacqueline Schram AMA AMA (USA) 94
RTD - Kirsty Fisher (SCO) RTD