Golf | 06 Mar 2018 | By Lali Stander
Lee-Anne Pace gunning for fourth Investec SA Women's Open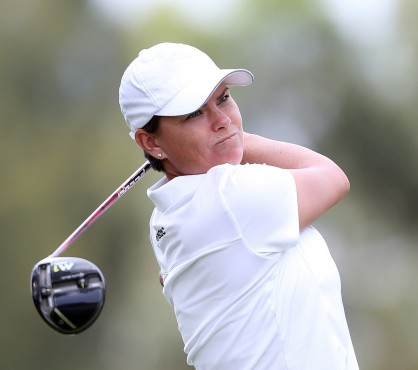 Lee-Anne Pace will be targeting a fourth Investec South African Women's Open title at Westlake Golf Club from 8-10 March. | Photo by Sunshine Ladies Tour
South Africa's Lee-Anne Pace has duel objectives on the mind ahead of the Investec South African Women's Open at Westlake Golf Club from 8-10 March in Cape Town.
Last year, the 12-time Sunshine Ladies Tour winner completed a hat-trick of titles with her third successive victory at San Lameer Country Club to join Mandy Adamson as a three-time national Open winner.
Winning the title four times is her first big aspiration.
"My goal this week is simple; I want to win," said Pace. "I'd really like to lift that trophy. I will try to get good scores in the first two rounds to put myself in contention. But we'll have to see what the weather does. Sometimes level par can be a good score if the wind really blows."
The Investec South African Women's Open is the marquee event on the Sunshine Ladies Tour.
This year's edition is co-sanctioned with the Ladies European Tour for the first time since 2014 and offers a purse of R2-million, with the winner getting the lion share worth R317 000.
Pace also has the season-long points list on her mind.
At 15th with 590 points, the Boschenmeer golfer is some way off top of the pile Stacy Bregman on 1710 points but with 2400 points up for grabs for the winner, the motivation is certainly there and Pace could make the jump to claim the points list title and continue to dominate the money list title she claimed in the 2014, 2015 and 2016,
A number of permutations are possible with third place this week worth 1550 points which interestingly is just 160 less than Bregman has earned from six events.
For Pace though, the task is simple - win the tournament and whip out the calculator later.
"I'd love to win both and end the season on a high note," said Pace, who lost the Chase to the Investec Cup title fight to Ashleigh Buhai last year.
The field boasts 123 players with a total of 26 countries represented and the 37-year-old LPGA winner and nine-time Ladies European Tour champion knows it will be a tough task to come out on top in a strong field.
"Carly [Booth] is good, but there are a lot of other quality players playing this week," said Pace.
"Flory Parker loves the wind, so I expect her to perform well this week. There are a number of new players I have never compete against, so there is the unknown factor. And our girls are coming off six weeks, so they are highly competitive.
"It's fantastic to have such a strong field here in Cape Town, but it will be tough to win. I'm just really happy we have a co-sanctioned event again and I'm excited about where the Sunshine Ladies Tour is heading."
Pace will be facing stiff competition from her peers, but she has dug out her old Scotty Cameron putter and, having found some great pace with 'old faithful' in the last couple of days, she is rearing to go.
"I played decently in Australia two weeks ago, but I didn't putt well at all," she said. "So as soon as I got back, I went looking for my Scotty. I've just bought a house at Boschenmeer and I am busy moving, so it was no easy task tracking down my Scotty.
"I putted my whole career with the Scotty Cameron and then suddenly last year I didn't feel comfortable. I think it got bent on the same flight my driver broke, because it was around that time that I lost confidence with my putting.
"Instead of getting a new putter, I just went with something different. I tried the mallet for half the season last year, but I just can't get comfortable with it. So I just went back to what I know."
Pace took third in the season-opening Canon Ladies Tshwane Open, but was forced to withdraw in the first round of the Joburg Ladies Open.
"That was a huge blow, I was playing really well at the time as well," Pace said. "I just woke up that morning and had really bad stomach flu, I couldn't even lift my arm. I tried to play, but I just couldn't swing the golf club - it was too heavy."
Bregman won at Pretoria Country Club and Buhai triumphed at Modderfontein Golf Club, but Pace did not wallow in disappointment. In the third event, she returned to the winner's circle when she beat good friend Anne-Lise Caudal of France in a playoff for the Cape Town Ladies Open title.
"Winning in Cape Town was really fun. I always enjoy playing in Cape Town because my friends and family always come out and watch. I happened to also play against my best friend in a playoff and won. It was a really good week, and that win there will set me up well for Westlake.
"It was funny because we didn't even know there was going to be a playoff," she said. "I asked Anne-Lise what score did you finish on, and she said eight-under and I said I was the same. It was only then that we realised we were going to be in a playoff. We just started laughing.  At the end of the day it's nothing personal and you just try and do your best."
Though Pace has not played Westlake Golf Club this millennium, she was still confident she could compete for the title.
"I haven't played Westlake since I won a Western Province amateur event here; it was probably 20 years ago," she said, laughing. "I like the course. It's a tough layout, especially when the wind blows and according to the forecast, the wind is going to blow. It will be interesting because it's a tight little golf course with small greens, so you really have to control the ball flight in the wind."
Pace is always a heavy favourite, as is Bregman and Buhai, but a number of younger players coming through the ranks coming through the ranks could turn this year's Investec South African Women's Open into an intriguing battle.
Look out for second ranked Nobuhle Dlamini, who picked up her maiden victory at the SuperSport Ladies Challenge last week, second season professionals Ivanna Samu and Lora Assad and a slew of Ladies European Tour rookies, including Marita Engzelius and Silvia Bañon, who tied for second in the Women's New South Wales Open.