Golf | 07 Mar 2017 | By Lali Stander
Williams steers Sunshine Ladies Tour to dramatic finale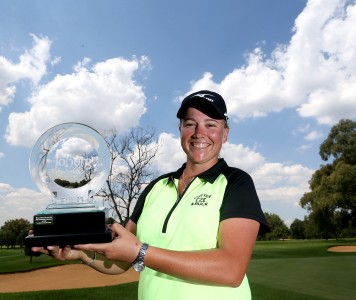 2017 Joburg Ladies Open champion Kim Williams | Photo by Sunshine Ladies Tour
The 2017 Sunshine Ladies Tour season is heading for the most enthralling of finales after Kim Williams produced a grandstand finish to capture the R500 000 Joburg Ladies Open title on Tuesday.
The Centurion Country Club player overcame an early triple bogey to shoot a five-under-par 67, racing through the back nine at Royal Johannesburg and Kensington in 29 strokes.
Williams won the season-opening SuperSport Ladies Challenge and she locked down the final counting event in the Chase to the Investec Cup for Ladies with a staggering five stroke victory on 11-under-par 205.
Her second podium finish was worth R70 000, but the real gold for Williams was the 650 points she banked in the points race. With a winner-takes-all prize of R100 000 and a R1-million bonus-pool to play for at the Chase to the Investec Cup for Ladies Final, she couldn't have peaked at a more opportune time.
"This win lifted me from seventh to fourth in the Chase to the Investec Cup for Ladies," said Williams.
"I was crushed when I just missed the top 10 last year, and this time I am heading to Millvale Private Retreat with a realistic chance to win the season-finale at on Sunday. To start and finish the tour on a winning note is incredible. I want to take this feeling and form and bottle it for the last big push."
Meanwhile Bonita Bredenhann from Namibia played herself into the top 10 for the Final with three successive rounds of 70 and a joint second place finish with England's Lauren Taylor (73).
Lejan Lewthwaite from Serengeti moved from 12th to ninth in the points standings with a 68 and a share of fourth at five under with Melissa Eaton (67), Morgana Robbertze (68) and Scotland's Kylie Henry (70).
England's Kiran Matharu protected her lead in the Chase to the Investec Cup for Ladies with a 68 to finish fifth on her own and Nobuhle Dlamini from Swaziland nabbed the final spot in the top 10 with a two under 70 and a share of ninth at two under with Tandi von Ruben (69).
The remaining players two will make up the top 10 field for the season-finale are Ashleigh Buhai (second), Nicole Garcia (third), Carrie Park (fifth), Lee-Anne Pace (sixth) and Von Ruben (seventh).
Williams thought she had spoiled her bid with a triple bogey at the par-three fifth.
"I opened with a birdie, but I made a nervous start and hit some shaky shots on the first couple of holes," Williams said. "When I tripled the fifth, I thought I was playing for a top three finish.
"I struggled to get some rhythm going, but then I birdied eight, made a really good par at nine and another birdie at 10. I actually snap-hooked it left at 10 and had to punch a six-iron, but I made a 10-footer for birdie. At 11, I hit probably the longest drive I hit in five years. I flagged a 9-iron and made the downhill four-footer for birdie. That birdie kicked me into high gear."
Williams took rescue off the tee at 13, got hold of a seven-iron and parked her ball close again.
"I made birdie, made a good par at 14 and holed a tricky 10-foot downhill putt at 15 after I overshot the green," Williams said. "At the short hole, I hit a great eight-iron to four feet and holed it for birdie.
"I was middle fairway down 17, and went for the flag. The ball pitched just past the pin and spun back, leaving me with an uphill six-footer for birdie. When I drained that the putt, I knew I had a big lead."
Williams laid up at the last hole, but her gap-wedge pitched next to the pin and spun back 20 feet.
"The first putt peeped in the hole and kept going. I was the calmest I felt all day over that three-footer for par and it was a huge moment for me when the putt dropped," she said.
"I couldn't have done this without the incredible support from the members and my fellow staff at Centurion Country Club, and Mizuno and Cutter and Buck, who have backed me for 10 years. I'm so excited to be going back to Millvale."
Final Result:
205 - Kim Williams 70 68 67
210 - Bonita Bredenhann (NAM) 70 70 70, Lauren Taylor (ENG) 68 69 73
211 - Melissa Eaton 73 71 67, Lejan Lewthwaite 68 75 68, Morgana Robbertze 72 71 68, Kylie Henry (SCO) 72 69 70
212 - Kiran Matharu (ENG) 74 70 68
214 - Tandi von Ruben 71 74 69, Nobuhle Dlamini (SWZ) 75 69 70
215 - Ashleigh Buhai 69 70 76
216 - Rebecca Hudson (ENG) 72 74 70, Stacy Bregman 71 72 73
217 - Monique Smit 67 75 75
218 - Nicole Garcia 70 72 76
219 - Anna Sventrup (SWE) 72 78 69, Valentine Derrey (FRA) 73 78 68, Lora Assad 74 74 71, Mae Cornforth 73 71 75
220 - Emma Westin (SWE) 69 80 71
221 - Laurette Maritz 73 77 71, Ivanna Samu 75 73 73, Monja Richards 73 74 74
222 - Sophie Giquel-Bettan (FRA) 77 72 73
223 - Lynn Carlsson (SWE) 74 77 72
224 - Eleonora Galletti AMA 75 77 72, Bertine Strauss 73 77 74, Mandy Adamson 72 77 75, Cecilie Lundgreen (NOR) 76 73 75
225 - Johanna Bjork (SWE) 75 75 75
226 - Alexandra Lennartsson (SWE) 75 77 74, Clara Pietri (SUI) 78 74 74, Tijana Kraljevic 81 72 73, Hanna Roos (SWE) 76 72 78
227 - Alana van Greuning 78 74 75
228 - Sofia Ljungqvist (SWE) 77 75 76, Michelle Leigh 77 78 73
230 - Hannah Arnold (USA) 76 79 75
232 - Sarah Bouch AMA 74 82 76, Maria Roos (SWE) 79 79 74
233 - Shawnelle de Lange AMA 69 83 81
234 - Marguerite Pienaar 84 77 73
236 - Lindi Coetzee AMA 75 77 84
237 - Laura Sedda (ITA) 79 77 81, Katia Shaff AMA (AUT) 81 78 78
238 - Siviwe Duma 74 83 81, Kirsty Fisher (SCO) 79 81 78
240 - Flavia Namakula (UGA) 77 84 79, Ethel Ruthenberg AMA 77 85 78
247 - Yolanda Duma 83 81 83
250 - Muriel McIntyre (CAN) 81 86 83, Leslie Grandet (MAD) 86 84 80
255 - Jacqueline Schram AMA (USA) 82 87 86
WDN - Laura Welch (CAN) 78 89 WDN