Golf | 31 Aug 2017 | By Michael Vlismas
Stone senior hoping to retain record over son Brandon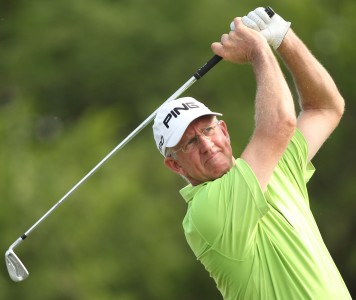 Kevin Stone
Kevin Stone continues his return to the Sunshine Tour in this week's Vodacom Origins of Golf tournament at Zimbali Country Club, and the 51-year-old is determined to keep the one record he still has over his European Tour-winning son Brandon.
Stone is back playing competitively after a lengthy layoff because of injury. "I hadn't played in almost two years because I had tennis elbow that became something worse and it was a mess. My whole arm fell apart, as it does when you get older.
"Then I played in the South African Senior Open earlier this year and played quite well. So I said to my wife, Desiree, maybe I should start playing again."
Stone played in last week's Wild Coast Sun Challenge and despite missing the cut says he was happy with his performance.
"My desire to play is probably stronger now than ever. I've been traveling with Brandon the last few years and you see how good they are, and it makes you set your own standards at a different level. It's changed my focus quite a bit. I'm probably about 20% of where I want to be right now, but we're getting there."
In the long term, Stone has his sights set on the European Senior Tour or the PGA Tour Champions. But for this week, he's hoping first to make the cut and then secure at least a top 20 finish. And of course, to retain the few bragging rights he still has over his son, Brandon.
Stone won on the Vodacom Origins of Golf Tour in 2006, when his son was still an amateur and caddied for him at Pezula that week.
Brandon then played in his first Vodacom Origins of Golf tournament as a professional at Highland Gate this year and finished second.
"I'm still the only Stone to win on the Vodacom Origins of Golf Tour, and I want to keep it that way," said Kevin.
"We have a lot of good banter about it. Brandon will say he's won an SA Open, and I just tell him anybody can win that one. Then he always asks me who I was competing against compared with today? I tell him I had these two hackers, Ernie Els and Retief Goosen, who I had to beat. It's good fun.
"But seriously, my days of beating him are coming to an end. I can still give him a go on certain courses, but he just hits it too far now. I was never a short hitter, but the young pros of today just smash it past you. I just have to hope they miss fairways now and again."