Golf | 10 Dec 2017 | By Michael Vlismas
Joburg Open to make history with Monday finish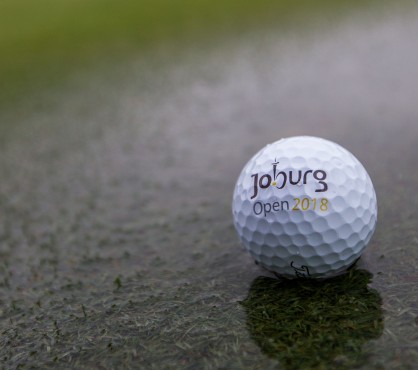 | Photo by Heinrich Helmbold
The Joburg Open will finish on a Monday for the first time in its history after a heavy thunderstorm forced the suspension of Sunday's final round at Randpark Golf Club.
Play was suspended at 13:00 on Sunday. India's Shubhankar Sharma is leading by four strokes with 11 holes to play on the Firethorn course. South African Erik van Rooyen is his nearest challenger on 18 under par and with 10 holes of his final round remaining.
Sharma started the final round with a five-stroke lead and birdied the second hole to climb six strokes clear of the field.
But Van Rooyen made four birdies in five holes from the third to keep some sort of pressure on the leader.
With the next players on 14 under, it appears a contest between these two golfers to be crowned this year's Joburg Open champion.
"I'm going to treat it like another day," said Sharma, who has been remarkably composed beyond his 21 years and considering he is new to this experience, having never before led a major tournament going into the final round.
"I'm going to do the same things which I've been doing in the last four days.  It is frustrating because you get into a groove when you start and you don't want to come off. I saw the clouds coming on the seventh hole and I was praying we could finish. But we can't help it. I'm playing well so I want to continue doing that."
As frustrating as the delay was, which started with lightning and rain and then even included hail at one point, Sharma is enjoying every minute of being in contention in a tournament he almost didn't play in. After initially struggling with his Visa application, he considered not traveling to South Africa and did so at the last minute. And he spent the rain delay relaxing as best as he could.
"I tried to calm myself so I went to talk to people, and my father on the phone. I had to cancel my flight tickets but that was an easy thing to do considering the position I'm in."