Golf | 15 Aug 2017 | By Michael Vlismas
Former SAGDB golfer Hess comes full circle at Vodacom Origins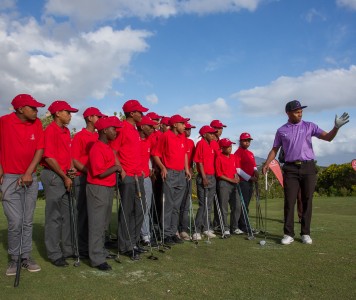 Sunshine Tour professional Jacquin Hess (far right) with the South African Golf Development Board children at a golf clinic ahead of this week's Vodacom Origins of Golf tournament at Arabella Country Estate. | Photo by Heinrich Helmbold
As Sunshine Tour professional Jacquin Hess looked at the young kids in red shirts standing before him on the driving range at the Arabella Country Estate on Tuesday, he saw not only potential golf talent. He saw himself.
In 2008, Hess was one of these kids from the South African Golf Development Board (SAGDB) standing on this very range listening to Gary Player at a golf clinic during the then Nelson Mandela Invitational.
Today he is a Sunshine Tour player, and this week will tee it up in the Vodacom Origins of Golf at Arabella, which begins with the first round on Thursday.
Hess has yet to win on the Sunshine Tour, but one of his best finishes was eighth in a Vodacom Origins of Golf Tour event at Vaal de Grace in 2015.
But on Tuesday, the man from Robertson in the Western Cape was only too happy to take some time out of his practice and spend it with the SAGDB's young golfers from the region.
"It's almost unreal for me to be here working with these kids because I was one of them, and I know what this can mean to them. It meant a lot to me.
"I remember standing here like one of them in 2008 and listening to Gary Player talk. Now today I'm a member of the Gary Player Class of 2017-18."
The Gary Player Class of 2017-18 is the Sunshine Tour's main development squad for historically disadvantaged professionals and which benefits from the support of the SAGDB, which was founded in 1999 as the official body for golf development in South Africa, as well as the Ernie Els and Fancourt Foundation in the collective effort to use golf to improve the lives of disadvantaged South Africans.
"In 2008 I also watched James Kamte hitting balls on this range. I couldn't believe how well he hit the ball. And today I'm playing against him. If I can be an inspiration to these kids, then it motivates me to work harder as well."