Golf | 20 Oct 2017 | By Michael Vlismas
SA golf has its true fairy tale in Jacquin Hess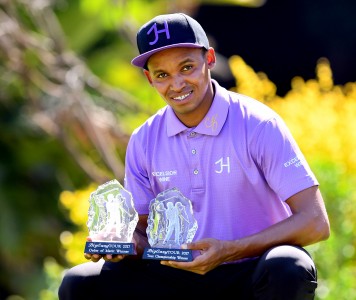 | Photo by Sunshine Tour
Jacquin Hess's victory in the Big Easy Tour Championship this week to clinch the Order of Merit should go down as the most remarkable fairy tale triumph of South African golf this season.
Hess's rise from a young golfer who was a product of the South African Golf Development Board (SAGDB) to becoming a Sunshine Tour player, a member of the Gary Player Class of 2017-18 and a golf ambassador for Sun International alongside Louis Oosthuizen and Brandon Stone has certainly captivated the attention of South African golf fans.
Even former Proteas cricketer Ashwell Prince congratulated Hess on Twitter, while both Sunshine Tour Chairman Johann Rupert and Executive Director Selwyn Nathan have publicly thanked him for the role he has played in serving as an inspiration to other SAGDB golfers.
The story of Hess's incredible journey was revealed this August when he took part in a golf clinic during the Sunshine Tour's Vodacom Origins of Golf tournament at the Arabella Country Estate.
Hess was working with some of the young SAGDB golfers who are invited to take part in these clinics, and then already there was a sense that the second half of the season had something special in store for this Robertson golfer.
"In 2008 I was one of these kids from the SAGDB standing on this very range listening to Gary Player at a golf clinic during the then Nelson Mandela Invitational," Hess explained.
"It's almost unreal for me to be here working with these kids because I was one of them, and I know what this can mean to them. It meant a lot to me.
"In 2008 I also watched James Kamte hitting balls on this range. I couldn't believe how well he hit the ball. And today I'm a Sunshine Tour golfer and am playing against him. And I'm a member of the Gary Player Class of 2017-18. If I can be an inspiration to these kids, then it motivates me to work harder as well."
The Gary Player Class of 2017-18 is the Sunshine Tour's main development squad for historically disadvantaged professionals and which benefits from the considerable support of the SAGDB, which was founded in 1999 as the official body for golf development in South Africa, as well as the Ernie Els and Fancourt Foundation in the collective effort to use golf to improve the lives of disadvantaged South Africans. The Class benefits from strong corporate support by SuperSport, Investec, BMW and PWC.
Hess is one of the most powerful examples of what equal opportunities in this game can mean to the country's historically disadvantaged golfers, and how the structures that are in place to facilitate this are reaping rewards.
This is Hess's first victory in his five years as a professional. But its impact will be felt far beyond just what it means to the golfer himself.
"I have to thank the Gary Player Class of 2017-18 for what they are doing. This is another feather in the cap for the Gary Player Class of 2017-18, SA Golf Development Board, SA Students and Boland Golf," he said, making sure not to leave out any one of the vital support structures he has had throughout his career.
"My journey started with the SAGDB, now we are here. So I really started at the bottom and I'm happy because I went through all the stages. Hopefully next year I can go on to bigger things."
Describing his approach to overcoming a five-shot deficit at the start of the final round of the Big Easy Tour Championship, Hess said, "I told myself 'Just give yourself opportunities'."
The opportunities have been there for Jacquin Hess ever since he was discovered by the SAGDB and stood on that driving range watching Gary Player in 2008.
"As an organisation we are blessed to have so many coaches around the country who invest selflessly in the lives and careers of young golfers like Jacquin. What he has achieved is going to serve as great inspiration for all of our SAGDB golfers, and it once again proves what we can achieve when we give our historically disadvantaged golfers opportunities to improve themselves," said Grant Hepburn, Managing Director of the SAGDB and CEO of Golf RSA.
And similarly, Hess has taken every one of these opportunities and used them to fullest.