Golf | 02 Mar 2017 | By Michael Vlismas
Haydn hits back at Tshwane Open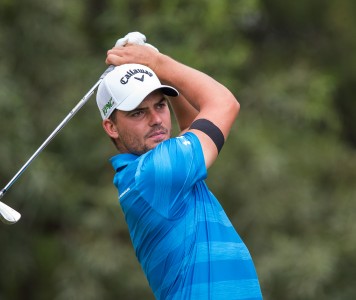 | Photo by Tyrone Winfield
Haydn Porteous finally emerged from the "dark place" he has been in the past few months, and it was a 65 for a share of the Tshwane Open lead that pulled him towards the light.
After a 2016 in which he missed 17 cuts and then missed the first four cuts of this year, Porteous was at wits end.
But solid performances in the Maybank Championship and then last week's Joburg Open started a comeback that was in full swing at Pretoria Country Club on Thursday.
With a bogey-free round, Porteous shares the lead with Frenchman Gregory Havret and Sweden's Alexander Björk on six under, one stroke clear of the field.
But his relief at finally finding his swing was clear to see.
"It's something I've really been searching for the last few months," he said.
"I was in a dark place with my golf, so to come back to my home country and province and find a golf swing and put some good scores under the belt is something I've really needed for a long time. I must say it feels good."
It was around this time last year that Porteous achieved his breakthrough victory on the European Tour when he won the Joburg Open, and he's delighted to be showing similar form again.
"I couldn't be happier with where my golf is starting to go. Bogey-free around this golf course is a fair effort. The course is in great condition. These fairways are probably the best fairways I've seen in Gauteng, and the rough is also the deepest I've seen.
"But I don't need to get ahead of myself. I'll just stick to my plan. Hopefully I can just improve on it."
Home favourite and 2015 champion George Coetzee opened with a round of three-under 68.
The South Africans have traditionally dominated this championship, winning three of the four to date. But the European challenge has started strong this year.