Golf | 17 Jan 2018 | By Michael Vlismas
Please golf, let's leave this back in 2017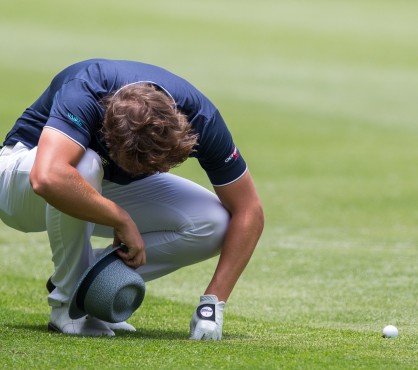 A New Year always brings with it a few rule changes in golf. But here is a short and entirely subjective list of a few other things golf can leave behind in 2017.
Shouting "Get in the hole"
Please people, let's leave this behind for good. It was fun for one season when Tiger Woods was the greatest thing in golf. But it's now like that practice ball on the range – overused. And if you knew how much the pros themselves detest it, you'd stop immediately. Just clap. Politely. And cheer a little if you want. There is a reason the pros love the gallery at the Open Championship and refer to it as the most informed in the game. It's because if they hit a great shot, the fans clap. If they hit a bad shot, they don't. That's been working well since Willie Park Snr won the Open in 1860.
The obsession with Millennials
It seems everybody is trying to figure out how to reach Millennials these days, and golf is not immune. But there has to come a point where we need to accept that our game is not for everyone, and that's ok. At school I had friends who played underwater hockey. It wasn't for me. The spectator value is not really high. So if I was at school now and underwater hockey was trying to reach me with DJs poolside, fireworks, funky team names and neon-coloured Speedos, I'm still confident I would slip through the Kreepy Krauly pipe of the most aggressive underwater hockey development drive. Golf as a product is fine. I tend to think that if we were just really friendly to newcomers and young golfers, patient with beginners on the course, and just created a really welcoming atmosphere at our clubs, that would be more than enough to hook most people.
Overly officious course marshals
Following on from the above, golf tournaments are doing their utmost to get people to come and watch, and some marshals are doing their utmost to chase them away. Contrary to what you may believe, being handed a "Quiet Please" paddle for a week is not golf's version of a knighthood. You are not now Sir Paddlealot. You are a steward of this great game. Your role is to help the fans who have paid money to come and watch the golf enjoy their experience. Yes, any unruly behaviour should be dealt with in the spirit of it not ruining everybody else's experience. But you are not there to lord your paddle over the gallery like a golf warlord trying to subdue a jungle rebel force.
The fuss around player equipment switches
I understand the fuss, I just don't think it's necessary. With the greatest respect to my friends in the equipment industry who do a phenomenal job for the game and its leading players, I just don't find an equipment switch that big a deal. If it was, surely more golf writers would be requesting interviews with Rory McIlroy's new driver rather than McIlroy himself.
The reverse sound on a golf cart
Easily the most irritating sound in the Milky Way. And I'm convinced that the person in the golf cart somehow becomes deaf to this sound, thus explaining why somebody could leave the cart in reverse while having a conversation for five minutes, with that nauseating screeching sending even the hadedas flying away for cover. I completely understand the need for the sound. But can we please treat it in the same way a Western Cape resident treats water – use it sparingly, and not at all if you can avoid it.