Golf | 02 May 2017 | By Lali Stander
Roux eyes historic hat-trick at Sun City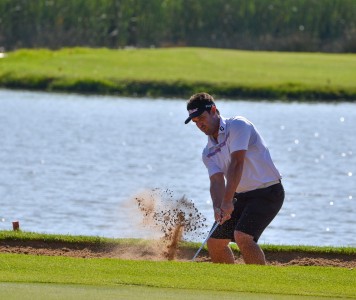 Two-time SA Mid-Amateur Stroke Play defending champion Gerlou Roux | Photo by Ernest Blignault
SUN CITY, 2 May 2017 – South Africa's top ranked Gerlou Roux will be bidding to become the first man in history to win the South African Mid-Amateur Stroke Play Championship three times when he leads the field into action at the Gary Player Country Club in Sun City today.
Roux collected his first victory in the flagship event in wire-to-wire style when he marched to a four stroke victory over fellow Western Province player Elton James at Victoria Country Club in KwaZulu-Natal in 2015.
Last year, the Bellville golfer was in imperious form in the final round at Silver Lakes Country Club in Pretoria and staved off a charging Shaun Stapleton from Central Gauteng to triumph by two strokes.
Life in the mid-amateur ranks has been sweet for 40-year-old Roux, who leads the Mid-Amateur rankings for a third successive season.
His form earned Roux a berth on the South African team that competed in the International Team Mid-Amateur Championship at Golf Du Medoc Resort in France in 2015 and last year, Roux led a four-man side into battle in the inaugural Golf Test Series against India.
Roux starts his bid for a hat-trick as a favourite following a runner-up finish in the Central Gauteng Mid-Am Open in January, a tie for third in the Gauteng North Mid-Am Open in March and a top five finish in the Highveld Mid-Am Open in early May.
The owner of Apex Risk Services has come into the prestigious event in fighting form.
He warmed up against players half his age over the last two weeks in the Cape and came away with a tie for sixth in the Boland Amateur Stroke Play and joint 11th in the Western Province Amateur Stroke Play Qualifier at Westlake.
"I've been struggling with back spasms for more than a year, so the last six weeks I've concentrated on rehabilitation and training to manage the spasms," he said. "I used the two events in the Cape to get competitive and I'm pleased that it went reasonably well.
"I had some good low rounds, but I let myself down in the last rounds of both tournaments with silly mistakes and bad decisions. I have been lucky enough to win twice and I would obviously love to make it three and the form does suggest I might do it.
"This is the most important event on the Mid-Amateur circuit and a good week can have a huge impact on the rest of the season, especially with GolfRSA hosting the Golf Test Series against India in South Africa in August. I'm an eternal optimist and I'll certainly be trying to get the third one this week to secure my spot on the Mid-Amateur team."
Roux played the Gary Player Country Club a number of times in his professional career.
"I have some great memories of the Green Mamba," he said. "In 2007, I shot 70 to lead the first round of the Dimension Data Pro-Am, but I was forced to withdraw due to food poisoning. It's still one of the best rounds of my career.
"And this course is still a monster. They haven't cut the fairways since the Nedbank Golf Challenge, so they are incredible tight and the rough is hectic. They couldn't cut the greens too much due to the dry conditions, so at least they're not lightning fast. Accuracy and position off the tees and a hot putter will be key to win. This course is going to be an incredible test of golf this week."
The defending champion expects to work hard for a third trophy.
"Kevin Sharp won the first two tournaments, Shaun bagged the Gauteng North Mid-Am Open and Jaco Rall and Douglas McCabe won the last two events in April and these guys are all prime contenders," Roux said.
"Ryan Dreyer missed out on a spot to India last year, so he will be coming out guns blazing and Eddie Wilken has climbed to fifth in the rankings and he could be the dark horse this week.
You still have to play a requisite number of coastal and inland events to qualify for the SA Team, but winning the SA Mid-Amateur Stroke Play could go a long way for someone to make the Golf Test Series team as a wild card. The way I see it, I have 133 players to beat this week."
The 10th South African Mid-Amateur Stroke Play Championship, hosted by North West Golf Union, will be contested over 72 holes.
SCORING: https://tournament.handicaps.co.za/albport/golfclubtv.jsp?pg=130174320&ps=130174234
For further information, please contact:
Geoff Taylor (South African Golf Association President) – geoff@saga.co.za
Bruce Younge (GolfRSA General Manager Golf Operations and Finance) – bruceyounge@golfrsa.co.za
David Younge (GolfRSA Assistant Manager - Golf Operations) – davidyounge@golfrsa.co.za
Written and released by Lali Stander on behalf of GolfRSA, a SAGA and WGSA Not-For-Profit company.
Lali Stander
TEL: +27 82 990 7150 / EMAIL: lalistander@golfrsa.co.za