Golf | 02 Mar 2018 | By Michael Vlismas
Home favourite George Coetzee chasing second Tshwane Open title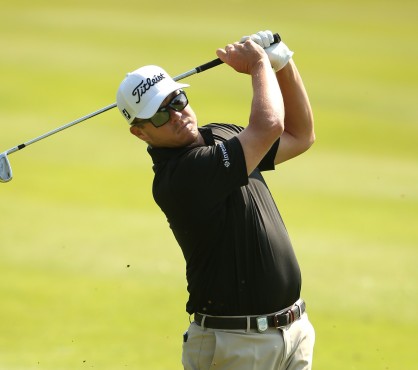 | Photo by Luke Walker/Sunshine Tour
George Coetzee heads into the weekend of the Tshwane Open with a one-stroke lead and busy achieving exactly the goal he set for himself at the start of the week.
George Coetzee signed for a seven-under-par 64 on the par-71 Pretoria Country Club layout on Friday, lifting him to 11 under overall and chasing a second Tshwane Open title following his win here in 2015. He is one clear of Finland's Mikko Korhonen and Chile's Felipe Aguilar.
At the start of the week, George Coetzee – who is playing his home course – outlined very clearly what he hoped to achieve in this tournament.
"I haven't come to my home course thinking I just want to make the cut. It would be nice to build some momentum for the rest of the season and maybe jump up the Race to Dubai rankings. I just want to play well and put myself in a good space for the rest of the year."
His second round included a run of six birdies in seven holes on the back nine that was a testament to his local knowledge as well as a short game that is on form at the moment.
"That was a nice stretch on the back nine. I felt I played well on the front nine but just didn't get the ball in the hole. It's just the way the game goes. But I'm happy to have posted two pretty good rounds. For the weekend I'll try and just focus on playing decent golf and posting good numbers."
Knowing this course as well as he does, Coetzee will prove to be a hard man to catch on the weekend.
Ever since the Tshwane Open moved to Pretoria Country Club in 2015, Coetzee has had a win and a 14th-place finish here. The only blemish on his record is a missed cut last year when he was amidst a range of swing changes.