Golf | 25 Aug 2017 | By Michael Vlismas
Pro George Coetzee answers friend's call to play in business team event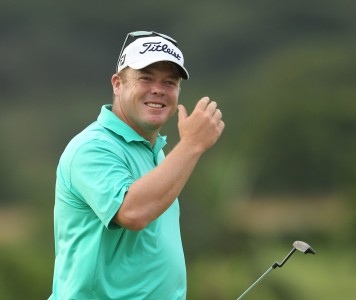 Never underestimate who you make friends with at school. Multiple European Tour winner George Coetzee will do a school friend a big favour when he tees it up as part of his friend's company golf team in a new corporate tournament at Sun City this week – the Corporate Masters, presented by Sun International and SEACOM.
"Let's just say one of the golfers on his team is bloody good," Coetzee joked as he was asked about the quality of the team he is representing in this new 36-hole Stableford tournament from 28-30 August.
The tournament has been sanctioned by GolfRSA and invites some of the biggest companies in Southern Africa to enter their best teams of golfers. And in this case, one team including a winner of nine professional tournaments who also finished tied seventh in the 2015 PGA Championship and twice represented South Africa at the World Cup of Golf.
"I think it's quite lekker actually. For me it will be like playing in those meat day competitions. I'm sure there will be a lot of nervous golfers out there, but for me it's just going to be fun," Coetzee said.
This will be Coetzee's first tournament following an eight-week layoff as he's been working on his swing and training hard for the remainder of the European Tour season.
Coetzee says it was a phone call from his school friend – Jan Marthinus Botha – asking him if he wouldn't mind boosting Botha's Core Vision EMEA team with some serious golf talent that persuaded him to use the event as a means of sharpening his game after the long layoff.
The tournament will be played on Sun City's two championship courses of the Gary Player Country Club and the Lost City Golf Course.
"I need some game time before I go across to Europe and this event was good timing for me. It offers me the opportunity to play some semi serious golf, get my game in the groove and have some fun."
The country's top business leaders can expect to see a different version of Coetzee when he steps onto the tee alongside them this week.
The 31-year-old has lost 15 kilogrammes as he works towards a strong finish to the year on the European Tour.
"I've had eight weeks off to practice and train and I'm quite excited about the rest of the season. I'm enjoying practising for the long term, and in this sense the work I've done now has been probably some of the best work I've done in the last seven years. You're always working to be better and make sure your structures are in place."
And Coetzee says he's looking forward to spending time with some of South Africa's top business leaders at Sun City, and perhaps making them sweat a bit on the golf course.
"Golf has always been a great platform to connect in the business world. I've always felt that even if I had to stop playing golf now, which is not the plan, I've met enough influential business people to maybe get a job at a serious company one day. In this sense golf has given me the opportunity to look beyond the golfing world.
"As for my own team, I think my job will be to just remind them to keep breathing out on the golf course and keep them calm. It should be fun."