Golf | 15 Sep 2017 | By Michael Vlismas
Gary Player wants to be remembered as more than a great golfer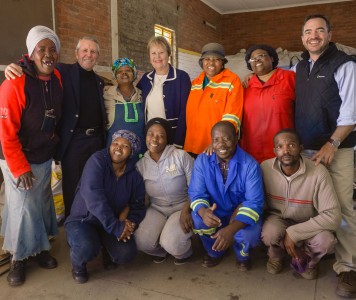 Gary Player and wife Vivienne celebrating the expansion of the Wildlands Waste-preneur project in their hometown of Colesberg.
Gary Player is recognised worldwide as one of golf's most iconic figures. But the Black Knight says he hopes to rather be remembered more for his humanitarian work than his illustrious golf career.
"Golf has been incredible to me. Yes I have worked hard but I am forever grateful for the talent that has been loaned to me. I believe that when a man is able to help his fellow man, that's a far more important legacy than how many tournaments I was able to win or how well I could hit a little white ball," said Player, who this November will host the 17th edition of his charity tournament, the Gary Player Invitational presented by Coca-Cola at Sun City.
The tournament will bring together business leaders, sports stars, celebrities and professional golfers on the fairways of the Lost City Golf Course from 23-26 November in the spirit of Golf and Giving as they help to raise funds for the two South African beneficiaries, Wildlands and Wings and Wishes.
It is the final tournament on a global series of six tournaments, beginning in the United Arab Emirates in February and then traveling to Japan, the United Kingdom, the United States, China and finally South Africa.
And on this global scale, Player is relentless in his desire to support various charities and their work for underprivileged children. It's a role that includes vital support in areas of Japan that were ravaged by the great tsunami and earthquake, to helping launch social projects in Colombia, taking young homeless people off the streets in the United Kingdom, and to transporting critically ill children in rural South Africa to proper hospitals for treatment.
"We live in a world where we're very much focused on our own comforts and how we feel, and we've forgotten about our neighbour. I have been provided so much through golf, and it is my mission to give as much back to my fellow human beings as I can. One man can't do this alone, but with the continued support of so many of our great sponsors and partners, I know we can reach that goal of $100 million," said Player.
Player has roped in business icons and some of the biggest names in the world of sport and entertainment, and they've already raised more than $63 million, with his quest now to reach the $100 mark as soon as possible.
In South Africa alone, the tournament supports Wildlands and their work in impoverished communities and its waste recycling projects, as well as Wings and Wishes and its work of funding transport for critically ill children to proper hospitals. Over the past two years Wildlands has been able to open a new waste recycling operation in Colesberg and expand its Durban operation, while Wings and Wishes has been able to expand its project so that it now functions in eight of the nine provinces.
"It's amazing to think that what started on our family farm near Johannesburg with the building of a church and school led to the formation of The Player Foundation in 1983, and then afterwards the Gary Player Invitational series and its humanitarian efforts. The fact that with our sponsors and partners we are transforming lives in six countries every single year is a very satisfying reward," said Marc Player, CEO of Black Knight International and founder of The Player Foundation and GPI Series.
For more information on the Gary Player Invitational, visit www.garyplayerinvitational.com and follow @GPInvitational on Twitter and Instagram - #GOLFandGIVING.