Golf | 25 May 2018 | By Michael Vlismas
The enduring pain of loss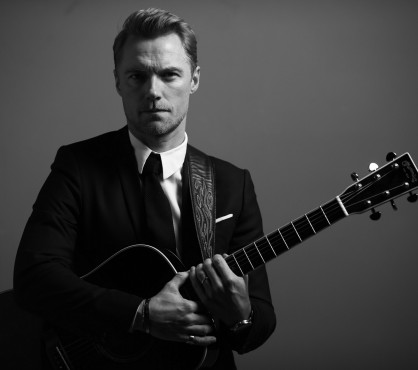 At The Masters last April, Gary Player took pop star and golf fan Ronan Keating into the hallowed Champions Locker Room at Augusta National Golf Club. It was a poignant moment, and not just because of the obvious golf link. Apart from all of their global success and celebrity status, both were once sons who lost their mothers to cancer.
When they came out, Keating had tears in his eyes. You don't know what was said or shared in a locker room bearing the names of some legendary golfers, each of whom enjoyed incredible triumphs and at some point in their lives also endured suffering.
This weekend, both Keating and Player will be in Cape Town as part of the A Night with Ronan Keating presented by Citadel fundraiser in aid of children fighting cancer and the Red Cross War Memorial Children's Hospital Oncology Unit.
The event will include a charity auction dinner and then an 18-hole golf shootout between Team Keating and Team Player, and a host of celebrities on both sides. The pervasiveness of cancer in society is made ever more real when you consider a colleague of mine was unable to attend this event as his wife was beginning with chemotherapy.
Keating's mother, Marie, was barely 50 when she passed away from breast cancer. Keating was 20. Keating has been very open about how the death of his mother saw his own life spiral out of control for a few years.
For Player, this sledgehammer hit him at a far younger age. The Black Knight was only eight years old when on Christmas Day in 1943 he was taken by his father to visit his mother, Muriel, for the last time in hospital.
Player remembers that day as follows: "We had just been to Christmas lunch with my dad's sister. But there was little to celebrate that day. We were all very quiet as we walked up the hill to the hospital. A car came by. I remember it was full of young people. They were so happy, all of them smiling and laughing. The driver had one of those big Mexican Sombrero hats on, with all the tassels. As the car neared us it slowed down, and the driver opened his window. 'And you old man,' he said to my dad. 'Why are you so sad today?'
"I can still hear all the laughter in that car, and see my dad's blank face as he just stared at the driver. He never answered him. He just looked at the young man for a few seconds. Then he gently tugged our hands and we walked on up the hill to go and visit our sick mom. Two days later, she died.
"My mom, who in my eight short years in this world had come to mean everything to me, simply slipped away and was gone forever."
We don't know what was shared between Player and Keating in the Champions Locker Room at Augusta, or what prompted the tears. But we can guess, as both now come together to support those suffering from cancer.
And in both we see the scar those losses have left. We see it in their relentless drive to become major successes. And we see it in their equally strong drive to give back – Keating through the Marie Keating Foundation and its work raising awareness about cancer, and Player through The Player Foundation and his tireless charity work around the world.
Perhaps they spoke about this shared experience in the Champions Locker Room. Perhaps Player shared how the loss of his mother at such a young age has seen him spend a lifetime on the golf course working harder than anybody to be great, fighting harder than anybody to win, and vowing never to give up just to be able to get the one answer to the question he always wanted to ask her: "Are you proud of me?"
Player doesn't speak easily about such things. It may come out in a moment on his Karoo farm as he walks amongst his horses. Or it may be a brief topic of discussion around his kitchen table late at night.
And I remember sitting there with him at that kitchen table, late on a starry evening in the Karoo after a day spent talking about Majors and great moments on the golf course, when he said, "Let me tell you where it all began for me".
For Player, it all began on that Christmas Day when he was eight years old. 1943. That last day he would see his mother alive.
"My mom died, and something also broke in me that day. Something I've spent the rest of my life trying to fix."
You may think you know everything about Gary Player. But what you don't know is just how much that still hurts. You don't know that as his father Harry went out at night trying to make sense of being a widower and with a house full of children to raise, it was a young Gary Player who told his older sister, Wilma, to go and get some sleep while he sat outside her door on the floor holding his pellet gun and "guarding her" until dad came home. And that's where Harry would find him asleep when he came home.
"I have dreamt that she saw me winning golf tournaments. I can still see her there telling me to pull my socks up and put my tie straight and little things like that. There is not a day that goes by that I don't think about her. To this day I cannot see a photograph of her without tears welling in my eyes.
"I have spent my entire life, my career, trying to show my mom how proud she can be of her son."
So you compete fiercely in everything you do. From how many tournaments you've won, to how many Majors, to how many sit-ups you can do. Anything. Anything to hear the voice of your mother in your dreams as she says, "I'm so proud of you".
Perhaps, in that Champions Locker Room, Keating admitted to Player that he'd like to hear that voice of approval one more time as well.
It is said that in the few split seconds of a golf swing, during that perfect arc of symmetry between all that is hoped for and all that is when club makes contacts with ball, a golfer's mind goes blank. Perhaps it is the same when an artist reaches that deepest moment in a song that touches millions.
Or perhaps, in the case of two men, the pause at the top of a backswing or the moment between breaths is infused with the flash of an image of a boy and his mother.
And she says the words her son knows to be true – but still needs to hear from his mom.