Golf | 24 Nov 2017 | By Michael Vlismas
Stars unite for #GolfandGiving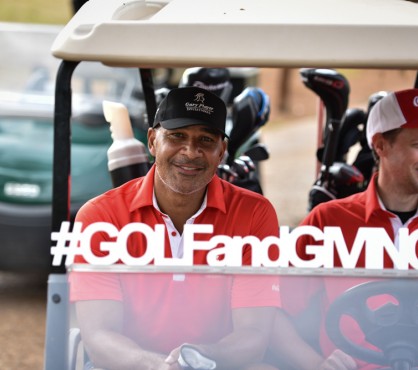 Legendary Dutch footballer Ruud Gullit (left) and his amateur business partner Bernard Pieters in the pro-am for the Gary Player Invitational, presented by Coca-Cola, at The Lost City Golf Course on Friday.
Gary Player won 18 Majors and 168 tournaments over several decades on the regular and senior tours. Ruud Gullit formed part of a golden era in Dutch football. Robbie Fowler was one of Liverpool's most prolific goalscorers in the Nineties. Mark Fish was part of a unique time in South African football history. Golden eras in sport come and go. But there is a timelessness to how great sportsmen give back.
This weekend at Sun City's Lost City Golf Course, the Black Knight will rally a host of sports stars, celebrities, professional golfers and business leaders in a collective effort to give back through his annual Gary Player Invitational presented by Coca-Cola.
And after Friday's official pro-am, some of these sportsmen spoke passionately of how the theme of #GolfandGiving resonates so much with them.
"When you are a footballer you take a lot, and after your career you have the opportunity to give something back to society by supporting events like this," said Gullit, who is playing in his first Gary Player Invitational in South Africa.
"Gary Player was one of the greatest. When he invited me to join him in South Africa to give something back to society, I didn't even hesitate."
Fellow footballer Fowler echoed his sentiments. "As sportsmen we all have various charities and we are quite lucky to be able to use our names to do that. But not everyone is as pivotal as Mr Player has been in this regard. Learning about the money that his Foundation has raised over the years is astounding."
This weekend's theme of #GolfandGiving also resonates strongly with the current generation of professional golfers.
"I hope our generation and others to come can learn from Gary Player in terms of giving back as a human being. I think we all can learn to be kinder and give more of ourselves to those less privileged than us," said Ladies European Tour campaigner Caroline Martens of Norway.
The South African tournament raises funds for its two main beneficiaries, Wildlands and Wings and Wishes.
On an international scale, the coming together of sporting greats and business leaders to support #GolfandGiving at the global Gary Player Invitational series has provided vital support in areas of Japan that were ravaged by the great tsunami and earthquake, launched social projects in Colombia, taken young homeless people off the streets in the United Kingdom, and transported critically ill children in rural South Africa to hospitals for treatment.
The series has added considerably to the more than $64 million raised by The Player Foundation over the years, and with the target now to reach $100 million by 2025.
For more information on the Gary Player Invitational, visit www.garyplayerinvitational.com and follow @GPInvitational on Twitter and Instagram – #GOLFandGIVING.