Golf | 14 Aug 2017 | By Michael Vlismas
SA's women who are turning waste into hope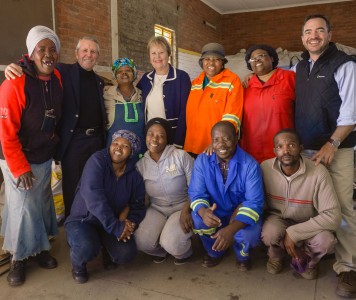 Gary and Vivienne Player with the Colesberg Waste-preneurs | Photo by The Player Foundation
A group of KwaZulu-Natal women are amongst many nationwide who are empowering themselves through a unique waste collection programme that is bringing hope to the poorest of the poor, conserving the environment and helping to educate their children.
Known as Waste-preneurs, the women of these impoverished communities around South Africa are literally cleaning up their streets and then trading this waste to be recycled, and for which they are paid.
It's part of a groundbreaking community programme launched by Wildlands and which has the considerable support of Coca-Cola and The Player Foundation as well as being a main charity beneficiary of the South African leg of the global Gary Player Invitational charity golf series.
The Player Foundation was inspired by Gary Player's own childhood poverty and has been raising funds for those less fortunate since 1983. The Player Foundation has raised more than $63 million to date and aims to raise $100 million by the year 2025 for worthy causes such as Wildlands.
"Our partnership with the Gary Player Invitational and Coca-Cola is transforming the lives of thousands of community members around the country," says Wildlands CEO Dr Andrew Venter.
"Women in South Africa and across the world face obstacles in all facets of life – social, economic, and cultural. Working with and investing in women is one of the most powerful ways to spur sustainable economic growth and development. We know that women's income goes directly to their children's education and other family needs. Through the Coca-Cola collaboration with the Gary Player Invitational and Wildlands we are transforming lives and communities through innovative sustainability projects," added Kelvin Balogun, President of The Coca-Cola Company's Southern, Central and East Africa Business Unit.
Three such women whose lives have been changed are Busisiwe Agnes Mthethwa and Hlaleleni Louisa Buthelezi from Pietermaritzburg, and Lucrecia Mseleku from Cato Manor.
Mthethwa relies solely on the income she receives from the Waste-preneur programme after she fell ill and lost her job as a domestic worker. Since joining the programme in 2013, she has risen to become the top-earning Waste-preneur in her region, having earned over R7 000 in 2016. She has taken this further by petitioning her local counsellor to assign a piece of land for her recycling efforts, and has enlisted several other women to join the programme.
"This is our only source of income and we're incredibly grateful to Wildlands for this project as we're now of an unemployable age," she said.
Buthelezi, who supports her six children and four grandchildren, was inspired by her neighbours to join the programme in 2016, and was recently able to use the money she makes to take her sick granddaughter to a doctor. "This money couldn't have come at a better time for me because I was able to take my granddaughter to see a private doctor. It was like a miracle."
Mseleku's efforts in the programme allowed her to send her son, Wonder, to eThekwini Community College where he is now studying to become an electrical engineer. "I am very proud of my mother," said Wonder. "She is a hardworking, strong woman and I believe it's no mistake that God chose her to be my mother. She is an amazing example to me and my siblings."
The success of the programme is a particular source of pride for Player, who with his wife Vivienne is actively involved with the Waste-preneurs in their own community of Colesberg.
"It's an absolute thrill for me that The Player Foundation with Coca-Cola supports Wildlands who make it their mission to uplift rural communities through job creation while preserving the natural environments that these communities operate in," said Player.
"It's so touching to see the people involved in the project and the amount of work being done. I'm hoping this will be a trend that will spread throughout South Africa to help keep our beautiful country clean."