Golf | 02 Dec 2017 | By Michael Vlismas
Gary Player inspires Louis De Jager to lead AfrAsia Bank Mauritius Open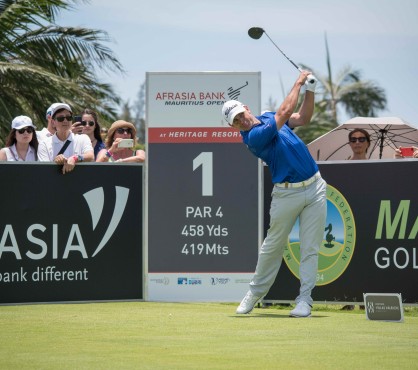 The time Louis de Jager spent with Gary Player last week has certainly paid off as the young South African now has the opportunity to win his first co-sanctioned tournament in the €1 million AfrAsia Bank Mauritius Open.
De Jager heads into Sunday's final round of this Sunshine, European and Asian Tour co-sanctioned event tied for the lead on 13 under with India's Arjun Atwal.
He worked his way to the top of the leaderboard with a bogey-free 67 in windy conditions at the Heritage Golf Club on Saturday, while Atwal relinquished the sole lead when he missed a short par putt on the last for a 68. They are only one shot clear of South Africa's Dylan Frittelli and Miguel Tabuena of the Philippines.
Last week, De Jager was invited to play in the pro-am of the Gary Player Invitational presented by Coca-Cola at Sun City, and he took the opportunity to spend a bit of time with Grand Slam champion Player.
"Mr Player is very inspirational. The stories he tells you and the advice he gives you is because he's been there. I enjoy listening to him and always take something out of the stories he tells. I always try and use the advice he gives," he said.
De Jager now finds himself in new territory, playing in the final group of a co-sanctioned tournament for the first time on Sunday.
"Maybe I should try and give Mr Player a call tonight. It would be nice to talk to him," he joked.
"I'm just going to cherish the moment. I'm looking forward to it and I'm going to go out there and give it my all."
As much as this tournament is played in paradise and with the players admitting to feeling guilty about going straight from the golf course to the beach and not the range, the Heritage Golf Club course was a hard place to be on Saturday.
"It did play harder than the previous two days. It was definitely blowing harder. The driving was difficult because we had crosswinds on most holes," said Atwal, who has been at the top of the leaderboard for three days now.
Frittelli also found the third round more challenging.
"I would have to check the stats but I would figure it was at least a shot-and-a-half harder than the first two days," he said after his 68.
"It's just tough when you're on the green, 30 feet away with the wind blowing sideways. You're just trying to lag it up there. You just have to roll it up and tap it in because you can't really give it a go. You're standing with an iron shot thinking, well, unless I hit it inside 30 feet I'm just lagging it, so there's lot of pressure on those iron shots."