Golf | 07 Sep 2017 | By Sunshine Tour
Wallie Coetsee smiling as wind picks up at Fish River Sun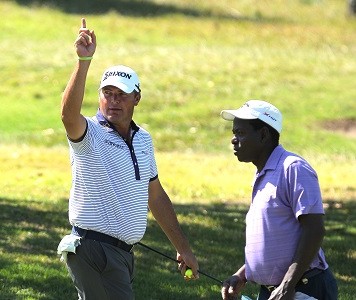 Wallie Coetsee | Fish River Sun Challenge | Photo by Sunshine Tour
As the wind picked up on Thursday, the smile on Wallie Coetsee's face got progressively broader. And he had statistical confirmation of his pleasure with a one-stroke lead after the second round of the R750,000 Sun Fish River Sun Challenge.
He went round the Fish River Sun Country Club course in six-under-par 66 to move to 10-under for the tournament after 36 holes, and he holds a slim advantage over Sweden's Jonathan Agren who carded a five-under 67 to be nine-under going into tomorrow's final round.
With solid showings in the wind in the last two Sunshine Tour events, after a run of three consecutive missed cuts, Coetsee is glad to be back. "It's nice to be up there again," he said. "The game always goes up and down, but we learn through our mistakes. It's important not to get down on yourself."
He started his round on the 10th and was quickly into his work with a birdie on the 11th. Two more came before the turn, at 12 and 16, before he made his only bogey of the day when he three-putted from inside 10 feet.
But there was a run of three consecutive birdies from three to five to compensate for that dropped shot, and one more for good measure on his closing ninth.
"You need to just be patient and keep the swing slow," he said of his game. "In wind like this, the rhythm of your swing is very important, and you don't touch your wedge and nine-iron much, because you try to keep it low into the wind. You play a lot with six, seven and eight, even from 100 metres in. Into the wind it's a knock-down seven or a very soft six.
"I love it playing in the wind. You've got to think all the time. It's not just bomb it. You've got to keep it low, slide it, draw it into the wind. It makes golf so much more enjoyable because you think all the time."
Besides his shot-making in the wind, he has his putting to thank for the lead. "I fired my old putter," he said of the vintage putter he was using during the run of missed cuts. "I got a new putter about three weeks ago and it's starting to work nicely. I think I had 25 putts with a chip-in and a three-putt.
"I'm trying to make all the putts I can make. I still miss a few, but I think of the ones I do make and focus on those."
With Coetsee relishing the conditions, he is going to be a tough nut to crack in the final round. "I hope the wind blows a bit tomorrow, and let the other guys hit it a little bit higher than me," he grinned. "Let's see if I can throw another 66 in there tomorrow and maybe I can win this thing."