Golf | 06 Sep 2017 | By Sunshine Tour
De Decker's memories help him to Fish River Sun Challenge lead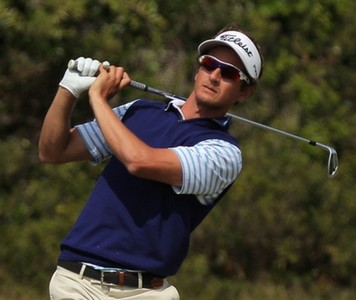 Andre De Decker | Photo by Sunshine Tour
Andre De Decker won the South African Under-16 Championship at Fish River Sun Country Club and he used those good memories on Wednesday to grab the first-round lead in the Fish River Sun Challenge on the same course.
He dropped just a single shot during his six-under-par round of 66, but more than made up for that with an eagle and five birdies to take a two-stroke lead over 10 players in a share of second on four-under.
"I've got good memories of this course," he said. "Last time I was here was 11 years ago and this is my first time back. There is some good mojo going. It's just nice to be back."
He started his round on the 10th hole, and made two birdies ahead of the turn, but it was the eagle on one – his 10th – that got things going for him. "The eagle was nice," he said. "I hit a great drive on one and then had the first of two chip-ins on that nine, and that really kind of kick-started things."
He went on to make three more birdies on his homeward nine, with his single bogey coming on the seventh. "I just got the ball in the hole," he said. "It wasn't pretty at times but I found a way to keep it in play, and made the up-and-downs when I had to. I just managed my ball very well.
"It is the sort of course that suits me. You can hit a lot of irons in play and do your scoring with the other clubs. The driver is a little erratic at times so it's nice to be able to tone down off the tee and attack from there."
Unusually for the course, there was virtually no wind, after the 2015 event was shortened to two rounds after a day of play lost to the wind, and Christiaan Bezuidenhout won here last year in some gusting wind.
"It's nice to have a red number after all the wind we've had in the last couple of weeks," laughed De Decker. "I was a little confused on the first couple of holes as to how to hit the ball without a four-club wind in your face."
If it was crowded behind De Decker for second on four-under, 13 players had a share of 12th on three-under, three behind the leader.
For De Decker, it will be about channelling those good memories again and trying to make things a little prettier. "See if I can hit it a little better tomorrow and make some putts and post a low one," he said.
As if 66 was not low enough.