Golf | 08 Sep 2017 | By Sunshine Tour
MJ Viljoen blows past field to win at Fish River Sun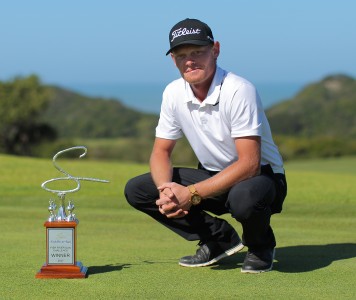 MJ Viljoen during the trophy presentation during day 3 of the Sun Fish River Challenge at Fish River Sun Country Club on September 08, 2017 in Port Alfred, South Africa. | Photo by Petri Oeschger/Sunshine Tour/Gallo Images
As MJ Viljoen walked to sign his scorecard, he thought he had finished the Fish River Sun Challenge on 12-under par. In fact, he had made birdie on 16 which gave him 13-under and a one-stroke victory.
The 22-year-old from Bloemfontein fired a superb closing round of seven-under-par 65 to overcome a four-stroke deficit on the overnight lead, and he edged out Andre Nel, Omar Sandys and Justin Harding for the victory after they all finished on 12-under.
"I forgot about the birdie on 16," said Viljoen, "but when I was going over my scorecard in score-recording, I remembered."
The moment of forgetfulness was probably induced by the solitary bogey on his card, which came on 17. "I had a terribly lie – almost in a divot – off the fairway, and I duffed my second," he said. "Then I hit a good chip which hit the pin and shot off 30 feet to the right of the hole. I just decided to take my two putts and move off to the 18th."
He thought he'd have to make birdie on 18 to cement his spot on top of the leaderboard, and he had a good run at it with a 12-footer. But the ball just missed on the left of the hole, and he made par.
In the end, that was enough to give him his maiden professional victory in his third year on the Sunshine Tour. "I'm delighted with the win," he said. "I'm excited about the year ahead. My goal this year was to win a tournament, to get exemption. I have it now, and there are a couple of tournaments that I'm looking forward to playing and see where that takes me."
He went about his work in the final round without feeling any kind of pressure to set a target for overnight leader Wallie Coetsee to chase. "When I teed off, I didn't really chase anything," said Viljoen. "I saw the guys who were leading were within reach and I didn't need to chase them. I just played golf, and in the end I won."
He rode to victory on the back of some solid, but not spectacular performances – a pair of top 20s in the previous two Sunshine Tour events. "Everything was working well this week," he said. "I didn't make many putts in the first two rounds. I was rolling it pretty nicely, so I knew that if I kept doing that, some of them were going to go in. I just stayed patient and everything came together nicely."
Viljoen is something of a freewheeling character, so the tournaments ahead could produce some more fireworks. "It's going to be much easier playing in future," he said. "Just having the monkey off my back is going to make it easier. There are no worries about anything, so winning has been a good learning experience for me."