Golf | 05 Aug 2018 | By Michael Vlismas
Fanie De Villiers excited to join golfers at 2018 Corporate Masters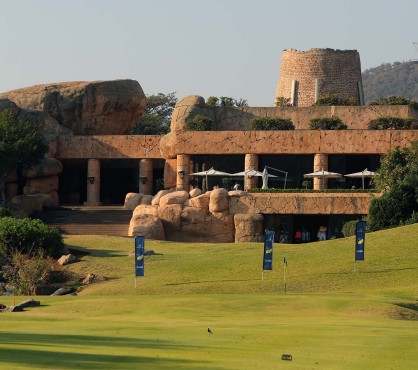 The cream of South Africa's corporate golfers will gather at Sun City for the second Corporate Masters presented by Sun International and SEACOM from 5-8 August, and with Proteas cricket legend Fanie de Villiers joining what has quickly become the premier corporate golf event in the country.
The 36-hole stableford competition, sanctioned by Golf RSA, will see a selection of South Africa's leading companies being represented by teams of two golfers who will compete over Sun City's two championship layouts in the Gary Player Country Club and the Lost City Golf Course for the overall title of being crowned the top company golf team of 2018.
And De Villiers, a highly competitive cricketer and even more so as a golfer, cannot wait. A shoulder injury has ruled him out of playing in the event, but he will still attend what he says is a valuable new addition to the South African corporate space.
"I've been involved in both the sports and business world for a long time. The social side of the business world is incredibly important and it's something that shouldn't just be relegated to an afternoon here and there, but should be made part of a programme for two or three days like this.
"The Corporate Masters presented by Sun International and SEACOM is a wonderful initiative because for three days you are networking with important clients and associates within your company as well. It's a great opportunity to get away from the office and look at your business from a relaxed space, and focus on new goals. And on top of this, you can never complain about a trip to Sun City."
Golf is a game De Villiers picked up early in his cricket career when he started touring, and as a means of getting away from the pressures of cricket.
"I've always loved golf. As a cricketer there were always one or two days where you could get away from the game and get to the golf course. It was something I picked up as a young cricketer when you start touring at around 20 or 21 years of age.
"I love the relaxation that golf brings and just being able to get away and clear your head on the golf course for a few hours.
"I suppose it's also a logical extension for a sportsman. You play your professional sport and then you can always play golf socially as you get older. I suppose the next move is bowls but I'm not there yet."
The man who became an icon of South African cricket says he's looking forward to hosting the golfers at the official welcome function in The Palace of the Lost City's Tusk Bar this Sunday, but at the same time he'll be keeping an eye on the ODI series between the Proteas and Sri Lanka. The third ODI is being played this Sunday and with South Africa in a position to clinch the ODI series with this game.
"We took a hammering in the Test series so I'm sure we'll all be keeping one eye on the ODIs during the golf. Hopefully we can give them a hiding to make up for losing that Test series."
And even though he cannot swing a club at the moment, De Villiers will no doubt take a moment to stand on the par-three 15th tee at The Lost City Golf Course and remember probably his finest moment as a golfer.
"I have wonderful memories of the Lost City Golf Course. The last time I played there I made a hole-in-one on the par-three 15th. But it's just such a privilege to play any of those two golf courses. I mean, any South African golfer knows the Gary Player Country Club so well even if you've never played there because we have grown up watching the Nedbank Golf Challenge hosted by Gary Player. So to then play it and relive some of what you've seen on TV is a privilege."
The Corporate Masters presented by Sun International and SEACOM made an immediate impact on its debut last year, and Byron Clatterbuck, Chief Executive Officer of SEACOM, says their vision is to keep growing it every single year.
"Our whole growth strategy for this event is focused on making this the tournament for corporate golfers to participate in. We've seen in our own company that 80% of our business is based on relationships, so we know the value of events such as the Corporate Masters."
It's a vision that is shared by Rob Collins, the Chief Strategy and Marketing Officer for Sun International.
"We were really excited about it when the concept was first presented to us and the inaugural event last year was successful. We're committed to growing the event and to improving it because it supports our positioning within South African golf."