Golf | 02 Aug 2017 | By Michael Vlismas
Els tees off new US scholarship drive for young sports stars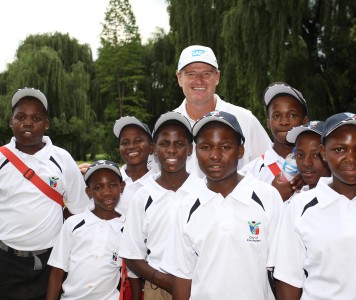 Ernie Els with young development golfers at the BMW South African Open. | Photo by Sunshine Tour
Ernie Els has announced a major new partnership with renowned sport scholarship agency Athletes USA as part of his desire to help young South African sports stars maximise their talent and opportunities.
The four-time Major champion announced this week that he has partnered with the agency, which specialises in securing American college scholarships for talented student athletes from around the world.
"I think this is a great opportunity for junior golfers and all student athletes who are looking to come to America and attend university on a scholarship," said Els.
"I'm very passionate about cultivating new talents and helping young players get to the next level. The Ernie Els & Fancourt Foundation was founded in 1999 specifically for this purpose; to produce successful young leaders and to help develop them to their fullest potential."
Athletes USA is comprised of former college athletes, coaches and scouts who work together to market and manage scholarships to some of the world's top universities, and the organisation includes a network of over 20 000 American college coaches.
"They take a look at you, your talent, your grades, and the overall picture to match and place you into the best university. This is a game-changer for anyone looking to go further," said Els, whose involvement in South African golf development and other causes is as diverse as founding his Ernie Els & Fancourt Foundation, to serving as a Champion of Hope for the Sanlam Cancer Challenge, and being the official tournament host of the BMW South African Open on the Sunshine Tour.
"We welcome this relationship with such a well-respected name in world golf and sports," said Athletes USA founder, Chris Vidal.
"With Ernie Els's help we will further the emphasis of education in sports and focus on helping top-level student athletes become champions in the world of academia and sports."