Golf | 10 Jan 2018 | By Michael Vlismas
The Big Easy and the big drive behind autism awareness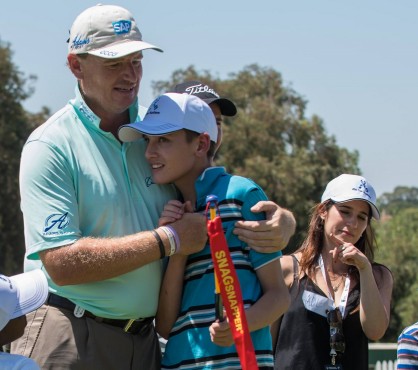 From the initial shock of discovering their son Ben has autism and how to deal with this, Ernie and Liezl Els have thrown themselves into making a difference for as many autistic children and their families as possible. This week's BMW South African Open, proudly hosted by the City of Ekurhuleni, plays a key role in the objectives of Els for Autism to support South African families with autistic children.
Ernie Els loves the honesty of golf. The immediate, no-nonsense feedback you get from the game. A mishit drive will show itself in all its imperfect purity. You cannot hide from an iron shot where the timing is slightly off. In short, golf has no filter.
It's also exactly what Els loves about the autistic children he supports and works with through the Els for Autism foundation.
"An autistic child is the most direct form of communication you're ever going to find," Els said at this week's BMW South African Open, proudly hosted by the City of Ekurhuleni. Els for Autism is one of the main beneficiaries of the proceeds from the championship.
"With an autistic child, whatever comes through his or her head at that moment comes out of their mouths. It's very honest, and that's what I love. There is no beating around the bush. You know exactly where you stand with the child. It's great communication and it's very direct."
Els and wife Liezl founded Els for Autism in 2009 after discovering their own son Ben was autistic.
From that initial shock of how to deal with this, the Els's have thrown themselves into trying to make a difference. Els for Autism has since grown to become one of the most influential foundations in helping to create awareness around autism and provide therapy and support for autistic children and their families.
The foundation includes The Els Centre of Excellence in Florida in the United States and the Ernie Els Centre for Autism in Johannesburg, South Africa.
The South African centre currently assists over 100 families with autistic children and also provides Skype sessions for nationwide support.
"We're doing a lot of work in the US and South Africa. It's been quite a ride to get to this point, but we're established now and we're moving ahead quite nicely," says Els.
"When Liezl and I started on this journey, we never expected it to become such a big part of our lives. But then we started to realise what a big issue it really is around the world. For a long time it was not talked about. When we started talking about it, I think a lot of other parents felt they could start doing the same. I think it helped people in a different way. Now that we have found our feet with our organisation, we're really making a difference."
Liezl believes passionately in educating as many people about autism to remove any judgement and stigma around it.
"The more we can expose people to autism, the easier it is for people to recognise it. So when you walk in a supermarket and you see a 15-year-old throwing a tantrum, you don't have to fear it because you have the knowledge of what it is. And you won't judge so easily."
And having been immersed in the golf world through the glittering achievements of her four-time Major-winning husband, Liezl believes in the value golf and autism can offer each other.
"The GameOn Autism Golf Programme was the first programme we developed as Els for Autism because we have that knowledge of golf, especially Ernie. Golf is the one thing that plays right into everything an autistic child wants – those repetitive motions and having to do certain things the same over and over. It's something they crave and it gives them pleasure."
Former professional and now sought-after coach Gavan Levenson has also seen first-hand the value of golf to autistic children as he's worked with many of them through Els for Autism.
"These kids are amazing. I teach a little boy who now actually goes out on the golf course and plays, and he's getting better all the time. We never know what his limit is because he always surprises us with what he's capable of doing.
"Like most things in life, when you get involved with it you understand just how amazing human beings are. I've never worked with one autistic child that has not amazed me somehow. I've also found that they just don't have fear when it comes to golf. They don't have that fear of failure that most golfers have. For them there's nothing to fail at."
And Liezl is confident that autistic children can teach the golf world a thing or two as well.
"We do these GameOn Clinics at tournaments like the BMW South African Open because I like the pros to see these children as well. I think sometimes we live in a fool's paradise and we get so many incredible gifts through golf that it's important to see reality sometimes and to see the struggles that other people are going through, and to understand that with autism it can happen to anyone."
Another important aspect of this relationship is the fundraising potential that golf provides Els for Autism.
"The main goal for us is to raise funds to help the programming in South Africa. We like to give the programmes for free. The therapy is extremely expensive. In America they tell us that on average a family with an autistic child will spend $3 million in that child's lifetime on therapies. Even if you convert that straight to R3 million, it's impossible for so many families. So anything we can do to give back more to these kids is vital," says Liezl.
"And the difference it makes is huge. The biggest change we've seen since we've been involved is people's acceptance and understanding of these children. I think the sooner we can all focus on their abilities and not their disabilities, it will be better for all of us as a society."
It's something her husband Ernie feels equally strong about, having lived through this with his 15-year-old son Ben, and learned so much along the way.
"Once you've been around an autistic child, it will change your life in some way. Just your normal day-to-day stuff, you think about it a lot differently after you've been with these kids."