Golf | 05 Mar 2017 | By Michael Vlismas
Dean finally does it with Tshwane Open win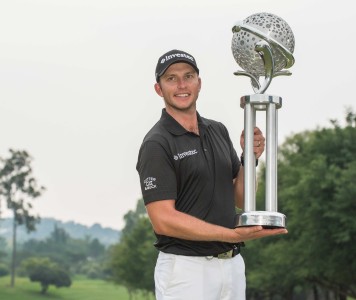 Dean Burmester claimed his maiden European Tour title in the Tshwane Open at Pretoria Country Club on Sunday | Photo by Tyrone Winfield
It was a victory that was a long time coming, and when it did, Dean Burmester struggled to put into words what it meant to claim his maiden European Tour title by three strokes in the Tshwane Open on Sunday.
"Now I'm a European Tour winner. That sounds good," was what he could get out first. "This is massive. I can't explain where I am right now."
Where he is, is at the winning end of a run of three top-10s and a share of 11th in four of his five tournaments this year, top-five finishes in the Tshwane Open the previous two years, and a general banging on this door for the past few seasons.
"I'm elated," he said after a dominant final-round performance that saw him win on 18 under par with a closing 65 at Pretoria Country Club.
Spain's Jorge Campillo and Finland's Mikko Korhonen shared second on 15 under.
Burmester's victory was built on a fast start of three birdies in his opening three holes, which did a lot to calm the nerves of a golfer who has been pushing hard for a victory as big as this.
"I had put a lot of added pressure on myself and frustration to win. Now I'm just looking forward to a full season on the European Tour."
A front nine of 29 – his first on the circuit – and then a birdie on 10 took him six shots clear of the field.
But Burmester was well aware of some tricky holes on the back nine, and was the first to admit that he did make things somewhat difficult for himself with three bogeys there.
"I know what this golf course can do. It showed me on 16 and 17 with the bogeys there, and I made it a bit harder. But I did the job on 18 so I'm really excited."
It was a victory made all the more rewarding by having his whole family there to witness it.
"It's surreal. I'm just really, really chuffed. My grandfather recently passed away so this one was for him."