Golf | 07 Dec 2017 | By Michael Vlismas
Davidse flies flag for special group of players in Joburg Open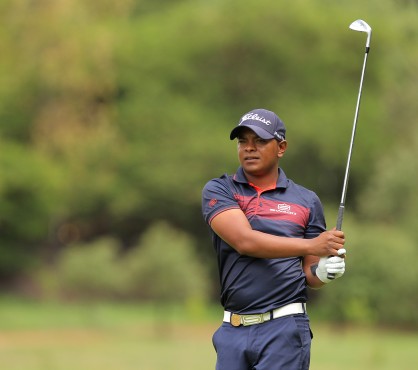 | Photo by Michael Vlismas
RANDPARK, Johannesburg (7 December 2017) – It was only the first round of the Joburg Open, but it was a round that meant so much to a group of players on the Sunshine Tour as Keenan Davidse put the Gary Player Class of 2017/18 in the spotlight once again.
Davidse's opening eight-under-par 63 on the par-71 Bushwillow course at Randpark on Thursday secured him a one-stroke lead in this tri-sanctioned tournament between the Sunshine Tour, European Tour and Asian Tour.
It was another endorsement of what is the Sunshine Tour's main development squad for historically disadvantaged professional golfers, and which benefits from the longstanding and continued support of the South African Golf Development Board (SAGDB) that was founded in 1999 by Johann Rupert and has become the official body for golf development in South Africa, as well as the Ernie Els & Fancourt Foundation (EEFF) in the collective effort to use golf to improve the lives of disadvantaged South Africans.
But as much as the focus was on him individually for a round in which he dropped only one shot and which came after he spent four days in hospital with an illness before this event, Davidse showed the tremendous pride that has developed amongst the Gary Player Class of 2017/18 golfers when he deflected the attention from his performance.
"We are such a special unit of players. The guys stand together and there is no jealousy amongst us," Davidse said.
"All of the golfers in the Gary Player Class can play. I think most of them are very underrated to be honest. It's really just a case of whether they are given the opportunities to play or not. If the opportunity isn't there, then they cannot show their true potential."
Davidse's 63 and his place at the top of the leaderboard is by no means a surprise performance. The Cape golfer has been in good form this year.
He finished tied fifth in the Zambia Sugar Open; 10th in the Sun Wild Coast Sun Challenge; and tied second, fourth and tied fourth in the Vodacom Origins of Golf tournaments at Arabella Country Estate, Zimbali and Simola.
"You know, my whole life has changed. I'm married, I have a child, so there is a level of responsibility now. My priority is to be a great father to my son and set an example for him. The golf is a bonus for me."