Golf | 08 Nov 2018 | By Michael Vlismas
Dale Hayes inducted into South African Hall of Fame at Sun City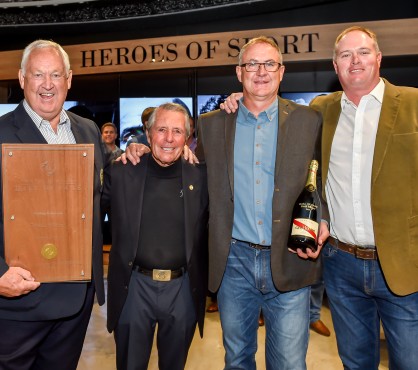 Dale Hayes was recognised for his longstanding contribution to golf as a player and commentator when he was inducted into the South African Hall of Fame in a glittering ceremony attended by Gary Player at Sun City on Wednesday.
Hayes became the fourth golfer to be inducted into the South African Hall of Fame, following Player, Sally Little and Bobby Locke.
In his brief playing career, Hayes claimed 21 professional titles. For decades he held the record of being the youngest winner on the European Tour with his victory in the 1971 Spanish Open at the age of 18 years and 290 days. This record was only beaten in 2009 by Danny Lee.
He topped the European Tour Order of Merit in 1975 and won the World Cup of Golf for South Africa with Bobby Cole in 1974.
But Hayes is most recognised as the face of golf on South African television, where he has worked as a commentator and presenter. He also writes regularly on golf in the South African media.
"Dale Hayes truly deserves this induction," Player said as he addressed the audience. "He has gone on to be a great ambassador for a country we all love dearly. I can't say enough about you, Dale. Well done my friend."
In expressing his gratitude, Hayes reiterated his lifelong love for golf and his desire to introduce as many people to the game as he can.
"I think it's so important that everybody is given the opportunity of playing this wonderful game. It is the greatest game in the world. When I finally leave the fairway, I want to know I've done my best to get every single person to play this great game of golf."