Golf | 02 Mar 2017 | By Michael Vlismas
Dale Hayes remembers his good friend "Hobbers"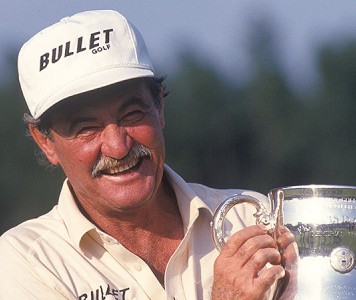 | Photo by Unknown
The death of Simon Hobday on Thursday brought tributes from around the world of golf for one of the game's great characters. But Dale Hayes remembers "Hobbers" as more than just a character.
"No question about it, Simon was a genuine legend," Hayes said during the first round of the Tshwane Open at Pretoria Country Club.
"People are going to be telling stories about Simon Hobday for the next 25 years. Not only was he a great golfer but he was also a fantastic person."
"He treated everybody the same – whether they were wealthy or poor, titled or a lowly worker. He loved to argue but hated to fight."
Hobday won 17 titles in his colourful professional career, including the South African Open, the German Open and the Madrid Open.
But Hayes believes it was Hobday's US Senior Open title in 1994 that will cement his legacy as one of the game's greats.
"Simon was probably very underrated until he won the US Senior Open. That kind of put him on the map. It made everybody realise that Simon could seriously play this game. On his 76th birthday last June he shot 65. That man could seriously play golf."
But it was as a pure friend that Hayes will miss Hobday the most.
"He was a terrific friend to a lot of us. He was ready to go, though. He had made peace with it. He really was a special man. But he'll be missed by golf as well, because he made golf a special game."