Golf | 18 Apr 2018 | By Michael Vlismas
Executive Golfers Chase Corporate Masters Glory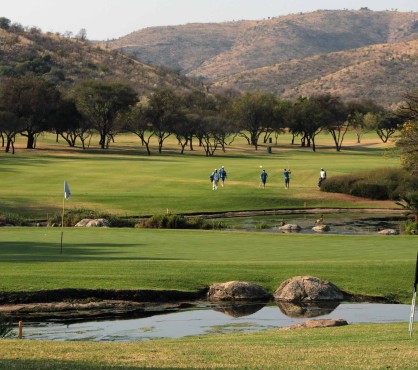 South Africa's top business golfers are once again lining up for the chance to be crowned the corporate champions of South Africa. They will compete in the second Corporate Masters presented by Sun International and SEACOM at Sun City from 5-8 August, 2018.
Following the success of the inaugural Corporate Masters presented by Sun International and SEACOM at Sun City last year, the second edition of this tournament will feature an increased field of business golfers as well as several other enhancements that are already making it the premier corporate golf event in the country.
"Last year was great for the first event, but this year we plan to take it to another level. We're committed to  growing this tournament and to supporting it for many years to come. Our whole growth strategy for this event is focused on making this the tournament for corporate golfers. We've seen in our own company that much of our business is based on relationships, so we know the value that golf brings to develop and mould relationships, and of events such as the Corporate Masters," said Byron Clatterbuck, Chief Executive Officer of SEACOM.
"We want the leaders of industry participating. Golf is a great sport for this kind of competition, as it allows participants of all skill levels to compete head-to-head.  And that's our vision for this event – to grow it into a world-class corporate tournament."
Companies are represented by teams of two golfers competing in a 36-hole Stableford Points competition at Sun City's two championship layouts in the Gary Player Country Club and the Lost City Golf Course. The Corporate Masters has been sanctioned by Golf RSA and is run according to the same professional standards as the major professional and amateur golf tournaments that have been hosted at Sun City for several decades.
According to Clatterbuck, the feedback from the corporate teams who participated in the inaugural tournament last year was extremely positive and has also highlighted other areas where the event can improve and grow.
"The golfers enjoyed the fact that it was played over two days so it wasn't too long. And the fact that it was played at Sun City was also a positive because they felt they had the opportunity to be off-site away from the daily grind, and have some time to network with each other. There are a few elements we want to sharpen up for the second tournament, but overall it was a great start. SEACOM has a lot of customers who love golf and we're a golf-orientated company ourselves. So this event fits our own plans as a growing business wanting to position ourselves and our services more strongly in this space."
Grant Parker, the GM of SEACOM Business SA at SEACOM, said they will be introducing several new elements to this year's tournament.
"We're looking at growing the field this year, and this year all participating golfers will have to have a registered handicap as part of the process of making this as professional a tournament as top business people would expect."
"We also want to have a base camp at the Gary Player Country Club which is the gathering point after every round to encourage more social interaction and networking. And we're looking at the possibility of a golf simulator and a golf village of sorts."
Rob Collins, the Chief Strategy and Operations Officer for Sun International, said they were delighted with the success of the inaugural tournament and are equally committed to ensuring its growth as the major corporate golf tournament for South African business.
"We were really excited about it when the concept was first presented to us and the inaugural event last year was very successful. We learnt a few lessons to build on and as such are very excited about this year's tournament.
"We're committed to growing the event and to improving it because it supports our positioning within South African golf. Sun International has taken wonderful strides in becoming more profiled and doing a lot more in South African golf, and we're very happy with our golf strategy at the moment."