Golf | 01 Sep 2016 | By Erika Bornman
Breaking through the glass ceiling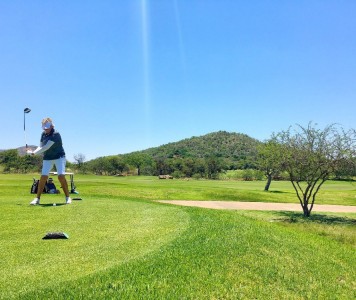 Sally Little | Pink Stig Invitational 2016 | Photo by Richard Booth
'It's all very well to say you're the best golfer in South Africa – that's quite a prestigious thing,' says legendary golfer Gary Player, 'but Sally Little was one of the best golfers in the world! It's incredible to have that kind of talent.'
After 30 years as a successful professional golfer on the world stage – having won 15 titles including two Majors on the Ladies Professional Golf Association (LPGA) tour – Sally has come home to South Africa.
'The passion I have for my homeland became a powerful calling,' says Sally of  her return. 'My greatest desire is to give  back to the country that gave me my  wings years ago.'
Sally, who is also a Sun International Ambassador, has started the Little Golf Trust to raise the next generation of great golfers by teaching young girls to play golf.
'Sun International sees the vision and  the direction that golf is going in,' says  Sally on becoming an ambassador. 'Just look at the success of the Nedbank Golf Challenge. Sport unites a country; it levels  the playing field. I would just like to see women golfers become heroes too.'
Sally explains that the Little Golf Trust goes 'to the grassroots level and grows women's golf throughout South Africa by targeting young women from previously disadvantaged backgrounds. It's to give girls an opportunity to use golf to get an education – and to grow future stars too.'
This inspirational golfer is also on a quest to get the nation's women walking –  and talking – on golf courses. Sally  saw firsthand how effective golf is  as a business tool through her long association with corporate America.
'Traditionally, women have been left out  of the game,' she says. 'The guys go and play golf and the women are offered a manicure or a facial. Meanwhile the guys do business on the golf course. We teach women in middle and upper management golf as a platform for business.'
So if you're keen to learn a sport that will pay off as a challenging pastime – and potential business networking tool – tee up for a round and see what happens. With Sally as your inspiration, you're bound to enjoy every moment!