Golf | 15 Sep 2017 | By Sunshine Tour
Maiden win for Tyrone Ryan as dad's advice ignored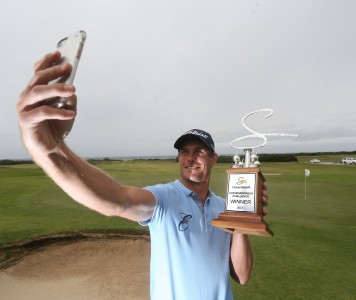 Tyrone Ryan celebrates his win by taking a selfie during day 3 of the Boardwalk Challenge at Humewood Golf Club on September 15, 2017 in Port Elizabeth, South Africa.
His father told not to push for the win in the final round of the R750,000 Boardwalk Challenge on Friday, but Tyrone Ryan ignored the advice as he charged his way to a maiden Sunshine Tour victory at Humewood Golf Club.
He fired a flawless final round of six-under-par 66 in testing windy conditions to edge out Christiaan Bezuidenhout by a single shot. That was after overnight leader Colin Nel battled his way to a two over 74 and had to settle for a share of third with Bryandrew Roelofsz and Anthony Michael.
"I spoke with my dad on the phone last night, and he told me not to try and chase the win," said Ryan, who was five off the lead after 36 holes, "but I got to the range this morning, and I thought, 'Screw that, I'm pushing for the win.'"
The result was an opening nine of two under-par 33, and then he picked up another birdie at the 11th. "I looked at the leaderboard on the 15th green, and I saw I was one back," said Ryan.
He had already made his fourth birdie on the 15th, and he knew if he pushed a little over 16 and 17 – where he made an eagle and a birdie they day before – he'd set a challenging target. He rolled in a 20-footer for birdie on the 16th and then made birdie on 17 after narrowly missing a lengthy eagle chance.
He parred 18, and then had to wait for two more groups to finish before he could have the victory confirmed. "That was an emotional roller-coaster," he said. "I had the same putt as Christiaan had for birdie on 18. I knew it wasn't an easy putt, up two tiers, downwind, into the grain, so I knew he had to hit a good one. Chances were favouring me there, but Christiaan's a great player. At any time, he'll roll in a putt like that."
The Sunshine Tour title was a long time in the making. He won at Irene in the inaugural year of the Big Easy Tour in 2011, and again at Glendower on the Big Easy Tour in 2014. And then a wrist injury side-lined him for six events on the 2017-18 Sunshine Tour. His comeback from that was punctuated by three missed cuts in six tournaments.
And then came Humewood. An opening round of two-over 74 gave no indication of what he was going to achieve, but his second-round of seven-under 65 did.
And he sealed the deal sweetly with his final 66. "My emotions are going all over the place," he said. "I'm excited one moment and emotionally sad at the next moment, but it's good to get the win. I could feel it was coming over the last few months, so to finally get it is huge."