Golf | 08 Jan 2018 | By Michael Vlismas
City of Ekurhuleni's young golfers tee off their careers as part of BMW SA Open Championship Legacy Programme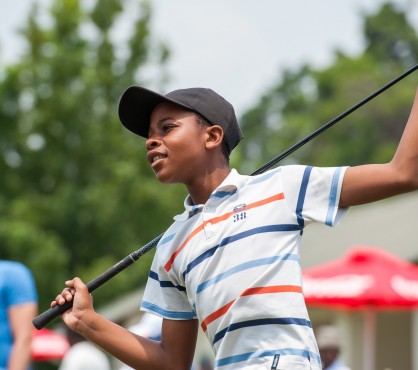 The Legacy Programme of the BMW South African Open, proudly hosted by the City of Ekurhuleni, will reach another major milestone at Glendower Golf Club this week when 10 young golfers who have made it through a lengthy qualifying process begin their coaching under former SA Open champion Gavan Levenson.
When the City of Ekurhuleni agreed to hosting the second oldest national Open in golf, it was with the undertaking that a true Legacy Programme would be developed to ensure the benefits of the championship would impact on the community for many years to come.
As part of this programme – the City of Ekurhuleni iNgomso Golf Development Programme – Glendower Golf Club committed to giving the 10 young development golfers membership of the club as well as the Gavan Levenson Golf Academy at the club. As members they will be able to compete in official junior tournaments, with all costs sponsored by the club.
The ultimate aim is that these young golfers could develop their games to the point of turning professional one day.
To identify these 10 golfers, 75 children between the ages of 8 and 10 were selected for a golf development clinic. Their respective coaches underwent the PGA of South Africa's Level 1 Grow Golf Programme to ensure they had the necessary skills to coach these young golfers.
The golfers then participated in a clinic at Benoni Country Club in June 2017, and which was arranged by the City of Ekurhuleni Sports Department.
The gate takings from the 2013, 2015, 2016 and 2017 BMW SA Opens, proudly hosted by the City of Ekurhuleni, were used to support the coaching clinic through the provision of SNAG golf equipment, which helps to teach golf in a fun and engaging manner.
After this clinic, 30 children were selected to attend a trial clinic with Gavan Levenson at Glendower Golf Club. And from this group the 10 golfers were selected.
The City of Ekurhuleni iNgomso Golf Development Programme will also be sponsoring a caddie at the golf club to attend the PGA of South Africa's Level 1 coaching course, and who will then assist Levenson with the coaching programme and accompany the golfers to tournaments.
A vision that began with the gate takings of the 2011 and 2012 championships being used to purchase golf equipment and fund golf lessons for young golfers from Daveyton and Thembisa has now culminated in a programme that could change the lives of 10 young Ekurhuleni golfers.