Golf | 03 May 2017 | By Lali Stander
Buhai back at the top in Swaziland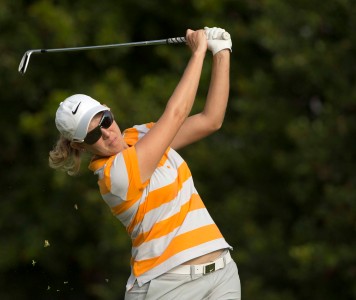 Ashleigh Buhai | Photo by Sunshine Ladies Tour
MBABANE, Swaziland (3 May 2017) – She left South Africa as the 2017 Chase to the Investec Cup for Ladies winner and two months later, Ashleigh Buhai went straight back to the top of the pile in the first round of the Investec Royal Swazi Open on Wednesday.
"Gosh, I haven't played this course in 15 years or so and it felt I like I was playing it blind," said the 27-year-old Edenvale golfer after she went around the Royal Swazi Spa Country Club layout in 73 strokes to bank one point in the Modified Scoring format.
"My ball striking was surprisingly good, considering we only landed back from the United States on Tuesday morning. I lost three points to bogeys at three, nine and 12, but I gained two points for my birdies at four and 10.
"I felt pretty good out there and I hit some good shots into the greens, but just not quite close enough to make more birdies. I didn't take advantage of the par fives, either, but now that I know how they play, I think I can do better on Thursday.
Buhai leads the R100 000 event by one point from Stacy Bregman and finished two points ahead of local favourite Nobuhle Dlamini.
"The course is quite receptive, but it's not running as fast as I remember," said Investec Property player Bregman, who mixed four bogeys with two birdies to finish at level par. "The greens had me baffled, though. They are quite grainy and I struggled to come to grips with the putter. I had a fantastic time with my amateur partners, though, and the conditions out there was superb. It's really cool place and we are having a lot of fun."
Dlamini racked up five birdies worth five points at her home course, but she paid dearly with six points for double bogeys at the first, 10th and 13th. Further bogeys at the third and ninth holes took the Swazi golfer's tally to -1.
"I didn't have a great day," said Dlamini, who has been campaigning on the Symetra Tour in the United States and also only arrived home ahead of the event.
"I felt quite drained out there after the long flight back, but I had an absolutely fantastic time with my amateurs. It's so good to have a tournament here at home, even if we are only six ladies in the field. The support from my countrymen for the event and for the girls has been amazing. Hopefully I will shake the jetlag and put together a better round on Thursday.
Bonita Bredenhann from Namibia finished in fourth at -2.
"Overall I think it went well, but the greens, the greens," said Bredenhann. "They are so hard to read and they don't spin at all. I was pretty happy that I hit nearly all the fairways, but not making a single putt cost me.
"Tee to green was fantastic, but I like all the other girls, I need to get a handle on the greens. I'm so happy to be playing this week. The course is challenging but great and the pro-am side of the event was fantastic."
Reigning Dimension Data Ladies Challenge champion Nicole Garcia and three-time Sunshine Ladies Tour winner Bertine Strauss also need to find some putts to put a dent in their negative numbers in Thursday's second round.
"I am on -5 and Bertine on -6, so we are hugging the bottom of the leaderboard," said Garcia, who had three bogeys and a double bogey against a lone birdie at 12.
"The course is not playing too long for us, because they put us off the amateur tees with our playing partners and today is was a nice distance off the tee boxes. The course is certainly not playing easy and you definitely have an advantage if you've played this course a few times.
"The greens are tricky; they are very grainy, but I found the chipping a lot more challenging than the putting. I couldn't quite judge how the chips would release. And I had a few errand tee shots into the wrong places. If you make doubles with this scoring system, it's hard to get points back if your birdie putts don't drop."