Golf | 06 May 2017 | By Lali Stander
Buhai banks early birthday bonus in Swaziland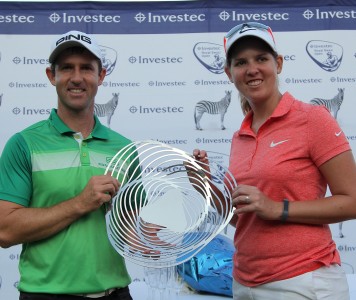 Investec Royal Swazi Open champions Ashleigh Buhai and Peter Karmis | Photo by Sunshine Ladies Tour
MBABANE, Swaziland (6 May 2017) -  She was hoping to go low in the final round of the Investec Royal Swazi Open in Swaziland, but two points on the final day was more than good enough to earn Ashleigh Buhai a stash of cash and a seventh Sunshine Ladies Tour title.
Buhai shared the winner's circle with men's competition winner Peter Karmis on Saturday after she birdied the final two holes at the Royal Swazi Spa Country Club to complete a wire-to-wire victory in the 72-hole Modified Scoring event.
The 2017 Chase to the Investec Cup for Ladies champion's this win this season came with a tally of 15 points. She finished seven points clear of local favourite Nobuhle Dlamini and 10 points ahead of Nicole Garcia.
"I kind of hobbled to the finish line, but I got the job done and I'm really pleased with the result," said Buhai, who turns 28 on May 11th.
"I was swinging it very good over the first three days, which surprised me, because I flew back from the United States and only landed home on Tuesday. As the week wore on I got a little more tired, and today I was just out of sync.
"I just dug in and it was great to close it out with the birdie-birdie finish. I am so pleased that I made the effort to come home and play in Swaziland. It's been an awesome event and I hope the ladies get an invite to return next year.
"The format is great fun, because it doesn't matter what you shoot. I mean, I shot two over in the final round, but still made two points for the birdie at 18. The pro-am format is a lot of fun, too. I played with some great people this week and we had a lot of laughs out there."
Before she heads back to the States for the next three months, Buhai and husband Dave – a full-time caddie on the LPGA Tour – will be celebrating her birthday with her family.
And Buhai can go to town, because she didn't just bag the lion's share of the R100 000 purse.
With daily incentive prizes on offer for the top three scores, she pocketed an additional R5 000 over the four days. On day one, her one point was worth R 5 000. On day two, she and Garcia both made three points, which earned them R4 000 each. Dlamini took the R5 000 prize on day three with a whopping 12 points, but Buhai's nine points was worth R3 000.
The final round netted her another R5 000.
"Maybe I'll treat Dave to a steak dinner," Buhai joked. "Everyone gets a share of the prize money, but it is such a great idea to offer the daily incentives. It really adds to the competitive spirit and isn't it great that all the girls are going home with a little something.
"Stacy (Bregman) had to withdraw from the final round, so she gets last place prize money, but she also made R5 000 with the incentives. Bertine hit it out of the park in the longest drive competition – 263 metres - and won R6 000. It's really a really nice touch from Investec."
Meanwhile Pistol Pete – the man who shot the first 59 in Sunshine Tour history at the Royal Swazi layout to win the Lombard Insurance Classic in 2009 – edged out American Zack Byrd to win by one on 49 points.
Karmis made nine points in the final round to celebrate his second victory less than 10 months since his won the Sun Sibaya Challenge.
"I'm extremely excited and relieved at the same time," he said after the win, "It was very stressful but we obviously play for that stress. We don't play golf to have it easy; it's supposed to be difficult. But I am very pleased to come out of it with a victory."