Golf | 04 Mar 2017 | By Lali Stander
Buhai mounting charge for the top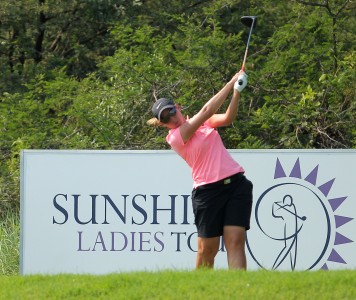 | Photo by Sunshine Ladies Tour
Ashleigh Buhai hopes her intimate knowledge of the challenging East Course at Royal Johannesburg and Kensington Golf Club will play to her advantage in the Joburg Ladies Open as she bids to seal the top spot in the 2017 Chase to the Investec Cup for Ladies Rankings from 5-7 March.
The 27-year-old Edenvale golfer currently ranks second in the point standings, less than 300 points behind current leader Kiran Matharu from England.
Buhai has 1 685 points and Matharu, who won the Ladies Tshwane Open and posted top five finishes in five of her other seven starts, leads with 1 895 points.
With Carrie Park and Lee-Anne Pace out of the picture this week, two victories, three consecutive runner-up finishes and playing at her home course makes Buhai a strong candidate to lift the title in the R500 000 championship.
Fourth ranked Park, who lifted her maiden title in the SA Women's Masters and the Sunshine Ladies Tour Classic sponsored by Canon, is be competing in Korea this week, while Investec Property's Pace, who sealed a hat-trick of wins in the SA Women's Open and currently ranks fifth, won't be back in time from the HSBC Women's Champions to defend her title.
Buhai is therefore in a very favourable position, but the six-time Sunshine Ladies Tour winner believes it is still all to play for in the final counting event of 2017.
"My aim is to win the Chase to the Investec Cup for Ladies, but Kiran has been a force of nature this season," Buhai said. "There are two players who could push me out of second and at least three more that could make it tough for me to win the Chase if they win this week. Hopefully I can play well to finish in front to give myself a chance in the Final."
Buhai will be keeping a close eye on Nicole Garcia and Tandi von Ruben.
A wire-to-wire victory in the Dimension Data Ladies Challenge and three top five finishes propelled Garcia to third with 1 579 points in the current standings and sixth-placed Von Ruben has amassed 1 131 points, most of which came in her last four starts.
"Nicole and Tandi have both showed great form lately," said Buhai, who edged out Pace in a play-off for the Cape Town Ladies Open title and added to her trophy cabinet with a two stroke victory in the Sun International Ladies Challenge on Thursday.
"Nicole played great at Glendower, but her best friend's mom unexpectedly passed away just before we teed it up at Lost City and the news really shook her. If she makes a good start at RJK, she will be tough to beat. Tandi was second in George and third at Sun City. I definitely consider her a threat."
Buhai also considers SuperSport Ladies Challenge winner Kim Williams and Nobuhle Dlamini – respectively seventh with 995 points and eighth with 835 points in the rankings – prime contenders.
"Kim has been another really consistent performer this season and Nobby is so unpredictable," she said. "If Nobby gets the driver and the putter going like she did at Glendower, she is definitely a favourite to win. They are both long hitters with great short games and the East Course suits both of them. I definitely can't discount them if they start strong."
Only the top 10 professionals in the Chase to the Investec Cup for Ladies Point Standings following the Joburg Ladies Open will qualify to contest the R-1million bonus pool and the winner takes all purse of R100 000 at the season-ending Final.
The Chase to the Investec Cup for Ladies point race winner pockets 1 000 points, which means that should Monique Smit at ninth with 759 points or rookie Ivanna Samu – 10th in the rankings with 764 points – win, they could also be in the running in the final contest at Millvale Private Retreat from 10-12 March.
"The Chase to the Investec Cup for Ladies is wide open, because there is 650 points up for grabs in the Joburg Ladies Open," Buhai said.
"Victory would equal a massive hike in the rankings. I've been playing Royal Johannesburg since I started playing golf. I believe I'll need every ounce of my experience at the East Course to my advantage this week, because everyone will rock up with their A-games in Sunday."