Golf | 02 Mar 2017 | By Lali Stander
Brilliant Buhai comes up trumps at Sun City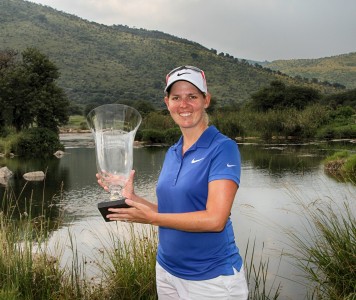 | Photo by Sunshine Ladies Tour
Ashleigh Buhai sealed the deal with her sixth Sunshine Ladies Tour title – and second this season – with a great par-save at the 54th hole of the Sun International Ladies Challenge at Sun City on Thursday.
The Edenvale golfer chipped out of the sticky rough to the back of the green at the last hole of the Lost City Golf Course with a two shot lead in hand. She lagged the first putt to three feet and boxed the second a four-under-par 68 and a winning score of 10 under 206.
Norwegian Cecilie Lundgreen, who also closed with a flawless 68, took second.
The victory came with a cheque worth R28 000, which propelled Buhia to second in the Chase to the Investec Cup for Ladies. She is less than 300 points behind current leader Kiran Matharu with just one counting event left for the 2017 season.
On Sunday, Buhai will start her bid for a hat-trick of wins in the R500 000 Ladies Joburg Open at Royal Johannesburg and Kensington having accomplished what she set out to achieve at the Gary Player-designed layout this week.
"Winning here was a huge goal and I'll thrilled to bits that I made it happen," Buhai said. "I missed two events when I competed in the Australian Women's Open on the LPGA Tour and I had to win this week to get close to the top in the points standings.
"Now I am exactly where I wanted to be. I have a shot at the Chase to the Investec Cup for Ladies this year and I just need to take this moment to my home course next week and do what I did in the Sunshine Ladies Tour Classic two years ago."
Buhai began the last round two strokes behind Bonita Bredenhann from Namibia and one shot shy of Lejan Lewthwaite.
"They are both young pros and playing in the leading group was unfamiliar territory for both of them," Buhai said. "They both handled the pressure really well over the first nine holes. I knew if I could get to one under on the front nine I had a chance and the birdie at seven got me closer.
"I hit a good drive and it was the perfect wedge distance. It pitch a foot from the hole I made the putt. That birdie and the one at the ninth was the kicker I needed to take into the back nine.
"I made a great birdie from the rough at 11 and had a lot of chances down the back nine, which is all you can ask for. I made good putts; some didn't drop but I made the ones I needed to. I played really well this week, but I made a few silly bogeys.  I told myself I needed a flawless round to win and I'm really pleased that I pulled it through."
Former champion Tandi von Ruben shot 71 to tie for third with Lewthwaite, who signed for 73 and Bredenhann finished in fourth on her own after closing with a 75.
The big-hitting Namibian gave four shots away at 12 and 14 and had pair of bogeys at 15 and 17, while Lewthwaite countered a brace of bogeys at six and seven with a lone birdie 17.
Buhai was impressed by both players and believes they will gain a lot from the experience.
"Bonita played incredibly well up until the 12th and Lejan is a real fighter. I had the experience on the, today, but they are both so talented that it won't take them long; a bit more experience and they will both get to the winner's circle."
Final Result
All competitors RSA unless otherwise specified and amateurs indicated as AMA
206 - Ashleigh Buhai 67 71 68
208 - Cecilie Lundgreen (NOR) 66 74 68
210 - Tandi von Ruben 68 71 71, Lejan Lewthwaite 67 70 73
211 - Bonita Bredenhann (NAM) 66 70 75
212 - Stacy Bregman 74 70 68, Carrie Park (KOR) 70 73 69, Kiran Matharu (ENG) 68 73 71
213 - Kim Williams 71 72 70, Lauren Taylor (ENG) 69 73 71
214 - Melissa Eaton 71 71 72
216 - Kylie Henry (SCO) 73 69 74
217 - Sofia Ljungqvist (SWE) 71 76 70
219 - Ivanna Samu 74 73 72, Nicole Garcia 70 74 75, Rebecca Hudson (ENG) 72 72 75
220 - Sophie Giquel-Bettan (FRA) 72 76 72
221 - Chiara Contomathios AMA 77 71 73, Lynn Carlsson (SWE) 71 76 74, Valentine Derrey (FRA) 75 71 75
222 - Monique Smit 76 74 72, Bertine Strauss 78 71 73
223 - Morgana Robbertze 76 75 72, Alexandra Lennartsson (SWE) 70 77 76
224 - Johanna Bjork (SWE) 74 75 75, Mandy Adamson 71 77 76
225 - Nobuhle Dlamini (SWZ) 76 77 72, Clara Pietri (SUI) 75 76 74
226 - Monja Richards 74 77 75
227 - Alana van Greuning 78 76 73, Catherine Lau AMA 78 74 75, Lenanda van der Watt AMA 79 73 75, Emma Westin (SWE) 76 75 76
228 - Larissa Du Preez AMA 73 82 73
229 - Anna Sventrup (SWE) 76 75 78
230 - Michelle Leigh 78 77 75
231 - Kiera Floyd AMA 78 79 74, Laurette Maritz 79 76 76, Flavia Namakula (UGA) 72 76 83
232 - Hannah Arnold (USA) 72 82 78
233 - Maria Roos (SWE) 86 75 72
236 - Hanna Roos (SWE) 80 81 75, Laura Sedda (ITA) 82 77 77, Ethel Ruthenberg AMA 83 76 77, Tijana Kraljevic 79 79 78
240 - Yolanda Duma 82 80 78, Lynette Fourie AMA 80 78 82
241 - Lindi Coetzee AMA 82 82 77
242 - Crystal Cooper AMA 80 82 80, Shawnelle de Lange AMA 80 80 82
248 - Kelsey Nicholas AMA 86 81 81
249 - Michelle Swanepoel 82 87 80
250 - Crizelda van Niekerk 79 84 87
251 - Mae Cornforth 87 83 81
252 - Siviwe Duma 83 80 89
261 - Nina Grey AMA 87 85 89