Golf | 04 Oct 2018 | By Michael Vlismas
The links between father and son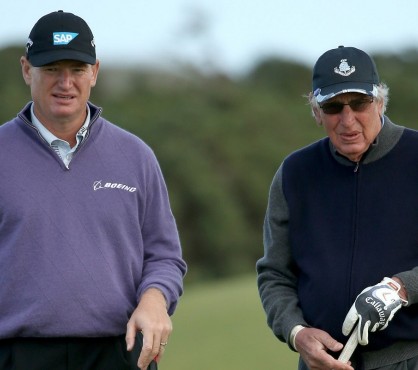 Ernie and Neels Els when they played together in the 2013 Alfred Dunhill Links Championship.
On a Tuesday afternoon, shadows creep across and over the gentle humps and hollows of an Old Course settling in to the calm of the early evening. And one man, whose languid stride has become iconic on fairways around the world, walks in and around and through them, with a deepening sense of the weight of these quiet moments at the Home of Golf.
Ernie Els is back in St Andrews for the Alfred Dunhill Links Championship. Over the years this European Tour event has become an annual gathering of friends. A week in which friends from the worlds of professional golf, entertainment, sport and business come together in a town where golf has for centuries provided a common bond.
It's evolved to become far more than a flagship event on the European Tour and one of the highlights of the golf year as a whole. In a sense, it's more important than that. For Els, it certainly is.
It's the one week in the year when he can revel in being something beyond a four-time Major winner, a former world number one, a winner of a multitude of tournaments around the globe, and a member of the World Golf Hall of Fame.
This week, he can simply be a son, playing golf with his father and amateur partner Neels. And like any good son, he knows how precious these moments are.
"This is always a special week for me, and even more so this year," says Els as he steps off the 18th green at the Old Course.
"I'm playing with my father, and this will probably be the last time we play together. We've played many of these together."
On one of those other occasions that father and son played this tournament together, Els said, "To spend this time with him, playing golf and just walking and talking about things – I can't tell you how special that is. As I get older, a lot of memories come back when my dad and I tee off together. He's been behind me my whole career, and for us to spend that time together just talking – it's just very special."
Elsewhere through the history of this tournament, similar stories have evolved. Rory and Gerry McIlroy, Charl and George Schwartzel, Branden and Peter Grace, Sam and Daniel Torrance, Martin and Horst Kaymer, and Paul and Craig Lawrie have all used the week of the Alfred Dunhill Links Championship to do what golf can do. To turn back time. To go back to those memories of playing golf as dad and boy.
"I couldn't have picked a better week, playing three of my favourite golf courses in the world, and to walk around with my dad," McIlroy said when he played with father Gerry one year.
"It's special to play with my dad," said Grace of the time he and father Peter played together. "We had a great practice round and he played his best round of golf, which was exciting. He was on my case the whole way around asking when I was going to pick up my game because he was playing so well. My parents have done so much for me to get me where I am today. To have the opportunity to bring him here where the game pretty much started is a privilege for me."
Privilege is exactly how Els would describe it as well.
"Just being at St Andrews for this golf tournament and all the great friends coming together – there's no better occasion. Where else in the world can you do this? Where can you play golf with friends, have a great time, and be competitive. It's just such a special week this.
"This is bigger than just the pure playing of a golf tournament."
So when Els walks off the first tee box alongside his father Neels at the start of this year's Alfred Dunhill Links Championship, he'll savour it more than most.
He knows, as all sons do, that there is always a time when the shadows creep across the fairways. And before that time, a boy wants to get in as many rounds with his dad as he can.