Golf | 04 Mar 2017 | By Michael Vlismas
Björk, Jamieson still tied for Tshwane Open lead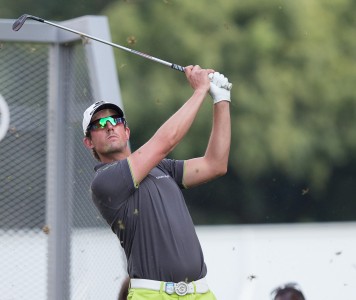 | Photo by Heinrich Helmbold
Alexander Björk and Scott Jamieson have decided to do it all over again in Sunday's final round of the Tshwane Open as they again share the lead by a single stroke at Pretoria Country Club.
The second-round leaders matched each other with third rounds of 68 on Saturday to head the field on 13 under par, and each making birdie at the last.
Jamieson heads into the final round with the experience of having won before on the European Tour and in South Africa in the 2012 Nelson Mandela Championship.
And Björk is delighted to have been in this position before on the Challenge Tour and again now so soon into his rookie season on the European Tour.
"I'm very pleased with my position," said Björk, who showed no signs of feeling the pressure of sharing the lead when he opened with two straight birdies.
"I played those first two holes perfectly. I'm not feeling under pressure. I'm just trying to enjoy myself."
The speed of the greens did, however, catch him on the back nine, where he dropped a two-shot lead over the field with two bogeys in three holes there.
"It was a tough stretch from 13 to 17. I had five putts in a row that were very close to dropping. I'm tending to leave the downhill putts a little short, but I'll work on that before the final round."
Björk is a big fan of this golf course, though, and seems to have found the perfect strategy for it by using his driver sparingly on Saturday.
"This course is fairly short so my gameplan is to hit into the good spots and then attack with the wedges. So I'm happy with irons off the tee. I like this kind of course which is a bit narrow and short and makes you think a bit more."
South Africa's Dean Burmester joins Spainiard Jorde Campillo at 12 under.
Burmester finds himself in contention once again this summer, and is hoping to make it count this time.
"I've been struggling a bit mentally of late and have put added pressure on myself. But I'm making a habit of being in contention so hopefully we can keep that up for the rest of 2017," he said.
The round of the day belonged to England's Oliver Fisher who signed for a bogey-free 62 to climb to 10 under par.
And 2008 Masters Trevor Immelman celebrated making his first cut in many a tournament with a hole-in-one on the par-three fifth hole on his way to a 69 and three under overall.