Golf | 21 Oct 2016 | By Sun International
'Africa's Major' goes mobile with major new Nedbank golf app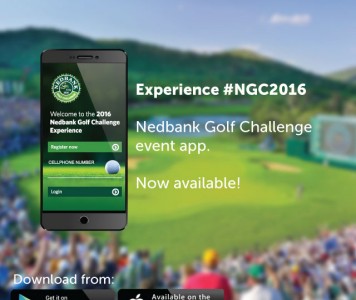 Johannesburg (21 October 2016) – A new era, a new look, and now the Nedbank Golf Challenge hosted by Gary Player has launched its own new app for the 2016 tournament at the Gary Player Country Club at Sun City from 10 to 13 November.
The Nedbank Golf Challenge App offers golf fans information on every single element of the tournament and is one of the most comprehensive fan-focused apps ever developed for South African golf.
All the latest news and scores from the tournament will be available on the app instantly, from worldclass articles, photos and videos about the golf, to daily ticket information and more.
Fans will also be able to explore the full schedule of events during the week of the Nedbank Golf Challenge hosted by Gary Player, as well as take part in various fan challenges, with rewards and prizes offered throughout the tournament.
An interactive map makes for easy navigation around the tournament, while location-based alerts will keep the public updated on everything from what's going on and where, to daily specials and promotions. They can also take part in an exploration of the golf course, whereby they will earn points on each hole and be eligible for daily prizes.
The Gary Player Country Club's two most iconic holes – the 9th and 18th – are also presented as never before through a Nedbank Virtual reality 360-degree video narrated by Dale Hayes.
Fans will be able to interact with each other through the Club House social stream, providing unique fan engagement throughout the tournament. There is even a digital autograph zone for immediate bragging rights.
With multiple major Wi-Fi hotspots around the Gary Player Country Club and hospitality areas, parts of the Sun City resort, and at various points on the golf course, the Nedbank Golf Challenge App will be an indispensable part of this year's tournament.
'We are extremely excited about the new app as I'm sure golf fans will be,' says Tobie Badenhorst, Head of Group Sponsorships and Cause Marketing at Nedbank.
'The app was designed with pure fan engagement in mind. We want the Nedbank Golf Challenge fans to be able to fully embrace every single aspect of this tournament and have a great time doing so.'