Golf | 01 Jun 2017 | By Michael Vlismas
A senior moment for the PGA Tour Champions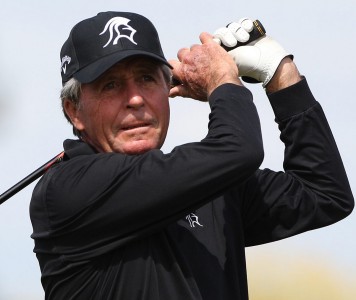 Records were meant to be broken. But not ignored.
In winning the Senior PGA Championship to claim his ninth Senior Major, Bernhard Langer has been rightly hailed as the phenomenon he is. He has beaten Jack Nicklaus's eight Senior Major victories. But it is not a record.
Anywhere outside of the PGA Tour and PGA Tour Champions, Langer has equalled the Senior Major record originally set by Gary Player.
Anywhere on the PGA Tour or PGA Tour Champions, Langer has set a record of nine Senior Major victories. That's because they don't recognise the three Senior Open Championship titles won by Gary Player.
The Senior Open Championship has been played since 1987. Player won the title in 1988, 1990 and 1997. But the PGA Tour Champions only recognises the Senior Open Championship as a Major since 2003. Coincidentally, the year American Tom Watson won it for the first time.
That effectively means that 11 winners of what is now an official Senior Major do not exist in their history books. This includes Bob Charles, as well as a further two South Africans in John Fourie and Bobby Verwey. It includes winners from Japan, Ireland, Australia, Wales, Scotland, New Zealand and England.
And it includes Player, a golfer who has arguably done more than any other to make golf a truly global game. So much so that he is recognised as golf's Global Ambassador. Even an auspicious Major such as the Masters recognises the role Player's victory in 1961 to become the first non-American winner of this Major played in taking it to a more global audience.
Yet the PGA Tour Champions refuses to acknowledge those 11 Senior Open Championship winners. A bit like the PGA Tour not recognising The Open as a Major until 1995.
Ridiculous as it seems, golf's oldest and most defining Major – dating back to 1860 –  was only given the American stamp of approval as late as 1995. Yet when this happened, they acknowledged its past champions retroactively.
Had they not, then golf history would have a vastly different look to it with an asterisk next to names such as Nick Price, Greg Norman, Nick Faldo, Seve Ballesteros, Sandy Lyle, Tom Watson, Jack Nicklaus, Lee Trevino, Arnold Palmer, Gary Player, Ben Hogan, Bobby Locke, Henry Cotton, Sam Snead, Harry Vardon, Bobby Jones, Walter Hagan, Tom Morris Snr and Tom Morris Jnr.
A query to the PGA Tour Champions as to how they settled on the date of 2003 to officially recognise the Senior Open Championship, and why not retroactively recognise the champions all the way back to 1987, came with the following explanation: Going back to 1987 would not be possible as in its early days the tournament had a limited field without a cut and was run by IMG. Most players from the PGA Tour Champions did not participate. When it became an official PGA Tour Champions event, the field size had increased to around 144.
But The Tradition was recognised as a Senior Major by the PGA Tour Champions from its inception in 1989.
The European Senior Tour in turn recognises all five Senior Major Championships – The Tradition, the Senior PGA Championship, the Senior Players Championship, the US Senior Open and the Senior Open Championship.
So does the rest of world golf.
It is time that Player, and his fellow golfers who won the Senior Open Championship before 2003, are rightfully recognised as the winners of a Senior Major that they are.
The PGA Tour Champions can choose to ignore them. But much like that old argument of trees falling in forests and nobody being there to hear, just because you ignore it doesn't mean it didn't happen.