Gaming | 05 Apr 2019 | By Sun International
Sunstriker is Hot at Sibaya!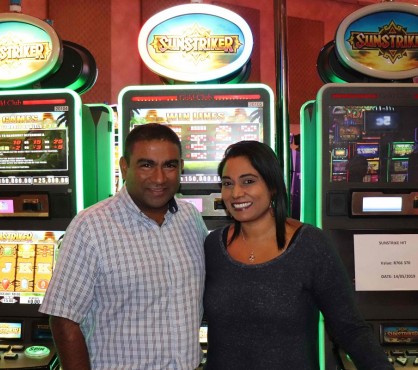 Sun International's popular wide area progressive jackpot – Sunstriker – has paid out five sizable jackpots totaling more than R4-million since the start of May 2019 ay Sibaya, with the latest Sunstriker jackpot hit on 14 May totaling a healthy R766 000. The first winner took home a windfall of R750 213 on 2 May, the second winner won R811 958 on 4 May, the third won R910 197 on 11 May and the fourth winner R788 118 on 13 May 2019.
Also on 02 May, a lucky guest hit a staggering jackpot of R3.2-million on Sunstriker at Sun International's Boardwalk Casino in Port Elizabeth, bringing the total value of SunStriker jackpots paid out at Sun International casinos in the past 13 days to over R7-million.
"It is incredibly exciting when a jackpot is hit at Sibaya, and even more so when it is a Sunstriker jackpot because these are never less than R750 000. I am happy to see our customers win big. We congratulate our recent jackpot winners who wish to remain anonymous. We hope that lady luck continues to smile on our loyal patrons," says Myan Moodley, General Manager at Sibaya, adding that Sibaya makes more winners more often so visit us to get in on the action.
Sunstriker, the Sun International Group's largest wide area progressive jackpot offers a minimum jackpot of R750 000 and is available at all Sun International casinos in South Africa. With players across the country pushing up the jackpot with every game they play, SunStriker is one of the biggest and fastest-growing jackpots in South Africa. Sunstriker is unique to Sun International, with unforgettable jackpot theme song by South Africa's hottest electro-pop artists, Locnville.